Dolls
Virtual Girl Living Foam Doll Real Doll complete doll listings
"If you're over twenty and you have a doll in the house, you better be a guy and it'd better be inflatable." —Bill Maher, Real Time, 28 October 2005
"They are known by many names. Inflatable dolls, love dolls, blowup dolls, dohms, rubber dolls, sex dolls, whatever name you call them, they still feel the same. You can do many different things with them for maximum stimulation and enjoyment. You can fill them with helium, air, warm water, pudding, sprayfoam insulation, or jello. One crazy fantasy idea is to fill them with warm water and enjoy them in your pool with a cute bathing suit on her for more realism. You can paste a wig on her head and paste a picture of Pamela Anderson on her face. She is always nice and tight. Any hole will do. She costs anywhere from free to thousands of dollars. She is always in the mood. Another great feature is the built in air conditioner when you just fucked her for an hour and you're hot and exhausted just flip her over and unplug the hole. Feel the nice cool air blow in your face. Ah, now that's living." —dllmn@hotmail.com
This web site is designed so that you can read it in a linear fashion (like a book) by following the arrows at the bottom of the web pages (and you may want to read the first web pages to get an overview of dolls, starting with this page) or as a comparison site, letting you go directly to the dolls that you are curious about (if you hold down the mouse button and wait, a pop up menu will alow you to open a link in a new window, making side by side comparisons easier).
[the pessimistic view:] "Hi, I am a part time doll person who sometimes purchases one when I need one. Anyhow, I am now disapointed in all the companies who make dolls and I'll tell you why. Before I came upon your review site I used to try and pick dolls according to what they said as far as features from the box or reccos from friends but I figured out they are all full of BS. The dolls look nothing like the outside of the box so it's all really false advertising." —J.P.; e-mail; April 30, 2002
Well, there are a lot of very misleading statements and pictures on boxes. And there are boxes with realistic photographs and descriptions. And, in the end, it doesn't matter if the box labels are accurate or not if you get the doll you want. And that's the point of the reviews, photographs, descriptions, and reader comments on this web site — to help you sort through all of the bull shit and figure out which doll is the one you really want.
I should also point out that everybody has different tastes. For example, there are guys who think that the latex dolls are the only ones worth having, while there are other guys who think that the latex dolls are a horrible experience. And some guys get turned on by the taudriness of really cheap dolls, while others prefer more expensive dolls. It is all a matter of taste. There is no one universal best doll for everyone. Hopefully, this web site will help you figure out which dolls match your personal tastes, turn-ons, and preferences.
There is a widespread belief that those who use dolls are mostly young virgins who've never had a girlfriend or those who otherwise have no sexual opportunities. This is the way Hollywood depicts doll use.
Well, despite the image set by Hollywood, these are not the real audience for love dolls.
In reality, dolls are a fetish item. The vast majority of doll users (both malke and female) are married and have a satisfactory sex life. In many cases, the dolls are used by the couple as a regular part of their active sex life.
This is why there is such a variety of different dolls available — to meet the demands of a variety of different fetishes.
For those with more mainstream interests, the various artificial vaginas and other masturbation devices might be preferable.
"Ok, I'm a sissy. I like playing with dolls. I know that most of the world laughs at guys who use inflatable sex dolls, but they sure are a great masturbation toy. And, you know, I can't be the only doll lover—there is no way they would be as ubiquitious and available in such a wide range of models if I was the only customer." —anonymous
I've used a lot of different sex dolls. My personal favorites are the Doc Johnson Pussy Galore, the Aphrodite Bending Fantasy Doll, the Smart Ass Love-Doll, the Perfect 10 Deluxe Fantasy Love Doll, the Chasey Lane Inflatable Fantasy Playmate, the Spread Eagle Doll, the Lacto Doll, and the Kylie Kneeling Love Doll.
I have a preference for the Chinese (Hong Kong and Taiwan) vinyl inflatable dolls. I realize that the Japanese solid dolls and the German latex dolls are much more rugged and last for years, but they just don't feel the same (of course, some people prefer them and can't stand the vinyl inflatables — everyone is different). I've also heard that the premium Real Dolls are really good, but I can't afford them.
I love sissy sex play with inflatable dolls. I can do anything I want, anytime I want, no matter how perverted. I can fuck her anus, her mouth, her pussy, her titties. I can hold her and dance with her. I can talk dirty to her. I can kiss and suck her titties and twat. I can bathe and dress her. I can hold her and snuggle. I can watch tv with her. I can take bong rips and blow smoke up her ass, her cunt, and into her mouth. I can keep her in bondage. I can do solo bondage on myself at the same time. I can dress up in feminine lingerie and full sissy maid costume and pamper her. I can perfume her and paint her body and polish her finger and toe nails. I can do anything I want anytime I want.
And she loves it. She was made for sex. It is what she lives for. Her legs are always spread. Her mouth, pussy, and ass are always open. Her nipples are always erect. Her clitoris is always swollen. She's always horny and ready and willing. She's begging me to do anything I want with her. She's a complete slut. She'll do anything.
I can have any fantasy I want and she plays it with me. My favorite is the teenage cartoon cheerleader in bondage. She's like a real physical version of really hot Japanese anime. I like to get fully dressed in sissy maid costume and play with her in front of a full length mirror. It is so cool to simultaneously see a sissy maid sissy fucking a sissy doll and feel the feminine clothes and the doll at the same time.
I do all kinds of bizarre sex acts with a long string of "fuck-me" dolls. This includes such dolls (ranked in increasing order of preference) as (#25) the Baby Love Doll, (#24) the Velvet Love Doll, (#23) the Nasty Boy Erotic Doll, (#22) the Miss World Special, (#21) the Talking Love Doll, (#20) the Echo Talking Doll, (#19) the Hustler Street Slut Inflatable Sex Doll, (#18) the College Co-ed Doll, (#17) the Ben-Wa Love, Love Doll (natural blonde hair teenage doll with three provocative openings of love), (#16) the Chinese Sex Girl, (#15) the Lorissa Love Doll, (#14) the International Lover Boy Doll, (#13) the Candy Bra Buster Doll, (#12) the Aphrodite Fantasy Doll, (#11) the Hot Pussy Sex Machine, (#10) the Cyber Chic Life Size Sex Doll, (#9) the Latex Lady, (#8) the Kylie Kneeling Love Doll, (#7) the Submissive Bondage Doll, (#6) the Lacto Doll, (#5) the Spread Eagle Doll, (#4) the Smart Ass Love-Doll, (#3) the Aphrodite Fantasy Doll Bending, (#2) the Chasey Lane Inflatable Fantasy Playmate, and (#1) the Perfect 10 Deluxe Fantasy Love Doll.
I masturbate with fuck me dolls at least twice a day (at least once in her pussy and at least once in her ass), sometimes as much as a dozen times in one day. I spend at least a half an hour fucking each hole. I lick my doll's pussy every morning at sun rise and snuggle and have sex while watching television.
Sometimes I combine dolls into threesome scenes or even into whole bondage scenes. Sometimes I include the inflatable animals in beastiality scenes.
Obviously I've had a lot of experience with inflatable love dolls. Additionally, many of my fellow doll lovers write in with their feedback and comments. This web site is a place of sharing between doll loving sissies and other interested parties so that you can quickly choose between the available models and optimize your own personal inflatable love doll experience.
The web site starts with an overview of the features of love dolls in general, followed by individual reviews of specific doll models, information on using love dolls, and love doll erotic fiction, and ends with miscellaneous appendix materials.
The information in the overview portion will help you know what to look for in an individual doll review. The love doll use and fiction sections show how to derive greater erotic pleasure from your love doll experience.
Instructions: I already know that you aren't going to make a change just for one web page, but this particular web site looks best if you go into your browser preferences and change the proportional font to 18 point Times.

Table of Contents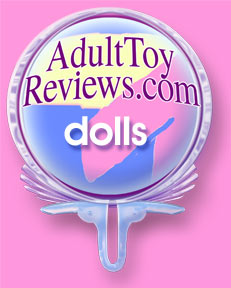 Recommended Dolls (from least expensive to most)
Female Dolls
most popular items
The following are the twenty most popular dolls, based on the number of visitors per page. This list does not include recently added pages.

[ complete table of contents ] [ feature by feature comparison ]
[ home ] [ the inflatable doll experience ] [ price comparison ] [ links ]


privacy statement
Unlike most web sites, we inform our visitors about our privacy policy. AdultToyReviews.com does collect generic information from visitors for statistical analysis (nation, browser, operating system, screen resolution, and monitor size) — any web site you visit can and probably does collect this information (and more). All individual identification information is immediately discarded (except for subscription information if you join our mailing lists). Information is never sold to outside mailing lists or any other purposes.
other
code word xzqj18
Copyright © 1998, 1999, 2000, 2001, 2002, 2003, 2004, 2005 contact00@AdultToyReviews.com
Last Updated: October 28, 2005
Created: May 1998
Inflatable Doll Home Page
Author of the Inflatable Doll Home Page: contact00@AdultToyReviews.com
If you write, please label your message as "Dolls" to help separate it from SPAM (which gets tossed unread).

[ main toy home page ] [ toy info ] [ sorted by color ] [ sorted by material ] [ rabbits ] [ butterflies ] [ remote control ] [ strap-on harnesses ] [ dildoes ] [ double dildoes ] [ glass dildoes ] [ hands and fists ] [ vibrators ] [ massagers ] [ sleeves ] [ eggs and bullets ] [ clitoral stimulators ] [ waterproof vibrators ] [ anal probes and butt plugs ] [ beads ] [ breast pumps and nipple exciters ] [ balls ] [ erotic jewelry ] [ cock rings ] [ bondage ] [ lubricants, oils, and creams ] [ barriers ] [ hygiene ] [ erotic clothing ] [ transvestite items ] [ kits ] [ artificial vaginas ] [ male masturbators ] [ dolls ] [ penis pumps ] [ novelties ] [ DVDs ] [ videos ] [ books ] [ words ]
[ complete table of contents ] [ feature by feature comparison ]
[ home ] [ the inflatable doll experience ] [ price comparison ] [ links ]