Chasey Lain Inflatable Fantasy Playmate
Signature Collectors Edition

A review of the Chasey Lain Inflatable Fantasy Playmate. A fantasy sex doll review on the unofficial, unauthorized love doll lover's web site.
complete table of contents listing all dolls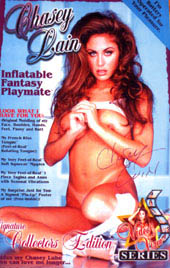 Category: inflatable female love doll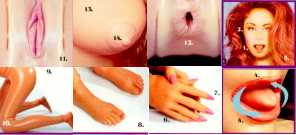 This doll is based on Chasey Lain, the porn starlet, and can be used in fantasy sex play while watching her porn videos.
NOTE: There are issues with this doll. Almost everyone finds the vagina and anus too tight — although some have reported being able to solve this problem. And some people find the face annoyingly ugly. While this can be a good doll, you need to check out the feedback section (below — wait until the whole page has loaded before using the link) before purchasing this doll.
NOTE: Yeah, a second note. The following review was written back in 1998. AT that time, the Chasey Lain Inflatable Fantasy Playmate and the Perfect 10 Deluxe Fantasy Love Doll were clearly superior to any other vinyl inflatable doll on the market. Things have changed since then, and there are now many dolls that rival or surpass the Chasey Lain Doll. When reading the following review, keep in mind when it was written.
A lot of you have written in and asked about the Chasey Lain Inflatable Fantasy Playmate. After saving up, I finally got it. A great doll, although the one I purchased had severe quality control defects. Even with the defects, this would have been among the best dolls I have ever purchased.
Which brings us face to face with the quality control issue. None of the manufacturers or retailers of inflatable dolls will stand behind their products and all of them have quality control problems because there is no financial incentive for them to care. This makes every inflatable doll purchase a gamble. Because of the inherent gamble involved, I generally only buy cheap dolls. They don't have as many features and don't last as long, but the risk is much less. Even taking dud dolls into account, it is more cost effective over the long run to buy several cheap dolls rather than one expensive doll.

The overall body shape of the Chasey Lain Inflatable Fantasy Playmate is a doggie style position, although her arms and legs are quite flexible and she can easily be put into a nice seated or kneeling position. Unlike most dolls, which have a cartoon girl look, Chasey Lain Inflatable Fantasy Playmate has a very womanly look. Access to her pussy and anus are easy from both the front and rear, as well as from below. The plastic used for the skin is thicker than most dolls and should last a long time. And the shape of the body and body parts is better than most dolls, although the ass is a little weird. The plastic is darker than most dolls, to create the impression of a full body tan.

The head of the Chasey Lain Inflatable Fantasy Playmate is a fully molded mannequin head, with mouth, tongue, eyes, nose, ear, and full head of long red hair. The material for the face is soft and pliable. The glass eyes are a pale blue and the eyelids have long black eyelashes. The eyes do not close. The Chasey Lain Inflatable Fantasy Playmate's hair is long, red, and straight. The face is molded from Chasey herself. I prefer cartoon faces on my dolls (it makes the fantasy experience more fun), but as far as realistic faces go, this is the best.

Chasey Lain Inflatable Fantasy Playmate's mouth is the most kissable and best feeling mouth of any doll. The lips and tongue are a strange color (same as the rest of the flesh). The tongue is really nice (flexible and soft), perfect for French kissing. The tongue is supposed to be battery powered to go in circles for better French kissing, but on the doll I purchased this vibrator never worked. Because of the position of the tongue, there is no room for oral sex.
"The tongue worked but it moved very slowly. I wished they it had no tongue because, like you said, the lips were more life-like. That would have made it better in my opinion." —Crazyjose

The tits on the Chasey Lain Inflatable Fantasy Playmate are large and full, and have the best areoles of any doll. Molded from Chasey herself, this doll's tits have more character than most. These are very big tits for an inflatable doll. The areoles are great and the nipple are ok (for some reason, they aren't erect). The areoles and nipples are soft and pliable, unlike the hard plastic of most dolls. There is a sharp plastic lip where the tits are mounted on the doll chest, making tittie fucking too painful. If these tits had been water filled rather than air filled, they would by far be the best of any vinyl doll.


"A love doll with molded vibrating vagina and anus that are unbelievably like Chasey's." —4 Play Sex Toys
The pussy and asshole are on a single one-piece assembly, in an anatomically correct position. The whole area is soft and pliable. The pussy and anus share a variable speed vibrator, although the cord for the batteries comes out the side and is inconveniently located. The pussy and asshole are great for cunnilingus and analingus. The Chasey Lain Inflatable Fantasy Playmate has the best pubic hair of any doll, a really pretty trimmed circle. The clitoral hood is the best of any doll. The inner pussy lips are great and would be the best frilly lips of any doll, except that the frilly parts that fall to the outside are molded into the outer lips, preventing sucking them into your mouth. The overall pussy shape is excellent. The lack of a clitoris is an obvious disappointment. The anus opening looks and feels great and is the best of any doll. The pussy and anus sleeves have soft little nobules for increased pleasure.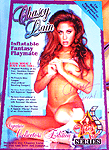 The big disappointment with my Chasey Lain Inflatable Fantasy Playmate is that the pussy and ass openings were too tight to allow entry. I've seen this problem before on some high end stand alone vaginas. I don't know if this is a problem for all Chasey Lain Inflatable Fantasy Playmate dolls or an intermittent problem. I am unwilling to save up for another six months to find out.
Luckily, I discovered a way to make her pussy fuckable. After two weeks of keeping a dildo in her pussy, the vaginal opening (although still very tight) was opened enough to be used. I keep a dildo in the Chasey Lain Inflatable Fantasy Playmate's pussy hole whenever I'm not playing with her cunt. This keeps her twat loose enough for sex.
"Found your Chasey Lain review during a Deja News search. I personally like mine, and agree that the vagina and anus are FAR too tight. I have wrecked three or four condoms (yeah, I know, but they make cleaning way easier) on them." —"Someone Else"


The Chasey Lain Inflatable Fantasy Playmate also has plastic molded hands and feet. The fingernails and toenails are painted pink. The hands and feet are realistically shaped and are soft, pliable plastic. The fingers on her right hand are separated (allowing for sucking of each individual finger), but the fingers on the left hand and the toes are all a single piece (preventing sucking of individual toes). The left hand is shaped vaguely ready for a hand job, but also can be used to cup the doll's tits. Putting her right hand over her pussy and cupping her left tit in her left hand makes for a really hot looking pose.
Overall, the Chasey Lain Inflatable Fantasy Playmate is an excellent doll. I fuck the Chasey Lain Inflatable Fantasy Playmate at least twice a day, as well as licking her pussy, playing with her tits, kissing her, and doing other things with her naked body. I especially like washing her in a bubble bath, running my hands all over her tits, cunt, thighs, stomach, and the rest of her body. I still play with the other dolls in my collection, but the Chasey Lain Inflatable Fantasy Playmate is by far and away my favorite.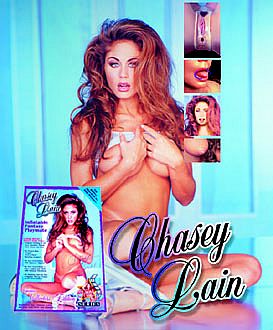 "Life Like Pleasure Doll. This inflatable love dolls features are original moldings of Chasey's vibrating vagina and anus. You will melt looking into Chasey's crystal life-like eyes and the life-like feel of her long silky hair. French kiss her soft lips with sexy rotating tongue! Chasey's beautiful big boobs are realistic with rubber nipples that are soft to the touch. Enjoy Chasey in many postions — even doggie style! This love doll is so realistic she even has real tan colored skin and molded painted finger and toe nails. Also included is Chasey's special Lube and pin up poster so you can love her longer." —4 Play Sex Toys
"Realistic love doll molded from Chasey Lain. Original molding of face includes crystal eyes [and] long silky hair, and her mouth has soft lips and a realistic feeling rotating tongue. Chasey's hands and feet are molded to match the real Chasey with painted finger and toe nails. Her breasts are life size and include realistic feeling nipples. Chasey's Vagina and Anus are a special one piece design for anatomically correct proportions. The vagina and anus vibrate (uses 4 AA batteries). Also includes Chasey Lubricant and a signed Chasey poster. We have gotten complaints that this doll loses air and has split open at the seams when weight was applied." —SexToySex.com
"The Chasey Lain Inflatable Fantasy Playmate is remarkably realistic and life-like. The face, molded from Chasey, has Crystal Eyes and long silky hair, she is actually looking at you! Very realistic! Hands, feet, toes, breasts, vagina, and anus are molded from Chasey. Her mouth has soft lips with a rotating french kiss tongue. Chasey has Multi-Speed vibrations for added pleasure. Includes, Chasey's lube and Pin-up poster. This is a high quality doll, one of the best available!" —Executive Affairs
"Special doggy style position. Original molding of Chasey's face. Crystal eyes. Long silky hair. Soft lips. French Kiss rotating tongue. Original molding of Chasey's hands. Painted finger nails. Original molding of Chasey's feet with painted nails. Life-like!" —Discreet Online Shopping
" 'I Was Molded Just For YOU!'
Inflatable vibrating fantasy playmate, molded from Chasey's face, breasts, hands, feet, pussy, and ass. Soft lips, French Kiss rotating tongue. Long silky hair, crystal eyes, painted finger and toe nails. battery operated for your pleasure. Includes: pin up poster & Chasey's lube." —69 Adult Toys
Vibrations: multi-speed
Clothing sizes:
dress:
bra:
corset: 36 was too large—anonymous; e-mail; Apr 28, 2003
panties:
shoe: 5—anonymous; e-mail; Apr 28, 2003


Color: Caucasian-beige

Material: vinyl
Batteries Required: Four (4) AA cells

Manufacturer: Wildfire
First three pictures are about the box cover.

Click on preview picture to see larger version.
Pictures donated by anonymous.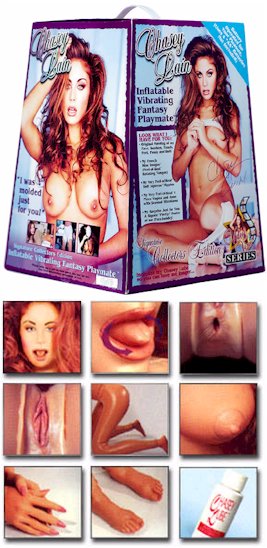 "I purchased this doll [locally] mainly cause I didn't want to go through the mail and it was the only one available at the local store. It was kind of expensive though the reviews swayed my decission to go ahead and get it. Wow what an experience. Totally awesome experience. Heard about them bursting but after about 10 uses, forgot to be careful and she popped. Oh my god I just spent 200 dollars and she busted at the seam on her abdomen. Well now I'm playing Mr. Fix it. Thought I'd try the bag sealer on her. Seems to work ok. She holds air, Though I melted a small hole where I shouldn't have. So I pumped some RTV Silicone in and put a small patch over that (Pencil size) To see if everything works. This doll is worth the money if you can get past the death stare, and for heavens sake don't EVER doggie style. On top or hanging off the bed works best. Less stress on the seams." —anonymous; e-mail; July 15, 2004
"Chasey Lain and others. This web site is cool. Where else can you find reviews that say Chasey doll looks psychotic and is not good for blow jobs. And reviews saying she is fine for french kissing, nipple sucking, and erotic love making with her hair flying. And other reviews saying which gals give really good blow jobs like Talking Lora and Smart Ass Doll. And which ones are red-heads, like original Super Shirley. A pic showing pretty Houston Pro next to a pretty blond woman, and a pic of voluptuous Letha Weapons standing with a real guy. Not on the boxes. The boxes say they are wonderful in every way. So, the site deserves a plug too!" —Between Friends; e-mail; Apr 25, 2003
"The manufacturer seems to have listened. I bought a Chasey doll about a year ago and blew it out after a few uses. The repair kit's worthless because the doll tends to blow at thew seams, where you can't patch it. Anyway, I decided to give it another try.
"In some ways, the doll hasn't changed. Same psychotic facial expressions (I agree that the tongue has to go), same bad seams at the shoulders (she looks like a football player in pads), head's too small for the body, etc, etc. She looks best dressed.
"However, there are some significant changes. The pussy%2Fass are still in the correct spot, but they're made of a much softer, stretchier material. Gone are the days of ripped and bleeding dicks, yessir. Both openings feel awesome. The vinyl is a bit softer than I remember, and the nipples got the same soft jelly-like treatment. Tits are still a bit too hard, but softer than the original.
"The down-side of this is that the crotch rips. I learned (after I popped the last one) to keep her on top, or side by side. But after a half-dozen uses, her "taint" is pretty much ripped out (the rectal bridge looks like a hemorrhoid) and she seems to have developed a slow leak in the General Pussy Area, probably as a result of tearing the rectal bridge all to hell.
"There's no way to tell what you're getting until you open the package. Retailers will not tell you whether you're getting the new version or the old. Just keep that in mind if you decide to buy one of these dolls based on my review. Me… I'll buy another one when (WHEN) this one gives up the ghost. Or maybe stuff her. With a few modifications, this could be an awesome doll." —anonymous; e-mail; Apr 12, 2003
"In my opinion the Chasey Lain doll is a rip-off for the price, it was such a pain to use. The Vag and Anal entries were entirely too tight and inside were lined with little probe things that to me were quite painful. There was no Oral entry, just a circling tongue that wasnt that great. The breasts were very hard feeling, basically they were made with think vinyl and air pressure so it felt soft on the inside, but still hard on the outside.
"On the outside the doll looked good. Decent looking face, real looking hair, detailed hands and feet. Nice position (hands and knees). The doll definatelly had potential.
"One night I just lost and it went after the doll with a pair of scissors and clamps. I tore out the tongue as suggested by others, but even with it all torn out it was too tight for me. I cut the sides to make it larger, but that just made it painful. I had thought there was some kind of substance in the breasts, felt like silicone kind of inside the hard vinyl casing. Turns out it was all air with some kind of pressure system to keep the air in, it stopped working the second I cut it open." —anonymous; e-mail; Apr 12, 2003
"I decided it is time to start working out to keep my good shape. Threadmills being too dorky for my taste, I decided to invest in a love doll instead, and exercise muscles that REALLY matter. (Heh heh heh!.) I liked the Chasey Lain doll promo pictures so, I ordered it.
"It arrived today. Well… this ain't Chasey Lain, that's for sure. The face photo on the cover of the box is the real Chasey Lain's, not the doll's. The doll's actual facial expression is a death-terror stare, like a cat's when it spots the oncoming lawnmower. I had to turn it around just to get her face out of mine.
"The places were the solid hands, feet, breast join the inflatable torso are really grossly molded. I dressed the doll into my (also kinky) girlfriend's throwaway opaque bodysuit and shoes to cover these rough areas up (BTW the doll has an apparent shoe size of 5). I bent the doll over the side of the bed to try and… ouch! @#$%! This is a Made In Taiwan doll for Made In Taiwan size weenies.
"Yup, for an American, regulation size dick, the pussy was hopelessly small. The anus was a little better. Ultimately I managed to finish in there, but it took such a painful effort due to the tight hole, with this much work I could have probably fucked the cat as well for $160 less. (Joking…) Hey, at least I would have avoided the death stare.
"The next time I have $160 to spend on Chasey Lain, I'll look up when she comes to dance in my lil' oceanside town, buy some flowers and candy and an invitation for dinner with me and my girlfriend. You can bet it will be a far superior experience." —anonymous; e-mail; Apr 7, 2003
"The Chasey Lain doll looked great, but using it was a painful and expensive lesson. The openings were excessively tight (I am about average size) and the anus was impossible. The "pleasure nubs" made usage so painful as to be a one time experience. (By the way, has any woman ever had "pleasure nubs" inside of her?) The face was indeed lovely and the breasts were the most realistic I have seen on a doll, but, I finally gave up after several attempts and scrapped the doll." —anonymous; e-mail; March 7, 2003
"Chasey Lain Fantasy. What an erotic slut doll! Sticking her tongue out with a long face, she says go to another gal for just a blow job. Her wide spread thighs, molded pussy lips, curvy buns, and kneeling position invite passionate action. Not the prettiest expression from a feet away. But close up,with her sassy eyes, chestnut color hair hanging in my face, and her protruding tongue moving around between my lips, she asked for nites full of multiple climaxing. Her breasts are tanned, firm and good size with unique soft wide buttery nipples. Her kneeling or sitting pose is open to a variety of positions. Later, she sits nicely in a chair with a sheer gown or a short skirt, with a towel to absorb dripping. Not totally durable, after a few months a very slow overnite leak started. And her outer pussy lips began to tear a little. Hopefully some glue will help for both." —Inspired Guy; e-mail; January 30, 2003
"Your site is really useful! I purchased the Chasey L. model based on reports from your site.
"As expected, it looked too tight, so I stuffed an object in there.
"Never owned one before. During daylight I was frankly embarrassed to have it around. I was sure it wouldn't turn me on and thought I made an expensive mistake.
"At night with lights down…wow! Her on top with hair flying and arms flapping she looked nearly as good and sometimes better than any real women I've had." —Fearless Fred; e-mail; January 25, 2003
"She's a lot smaller than I expected. More like a teen than a "full sized" woman. The hands and feet are tiny. The pussy and anus are pretty tight, but I kinda like it that way. The tongue is a definite disappointment and I may try the idea of just taking the damn thing out. She isn't the best looking one I've seen, but the anatomically correct crotch makes it a lot nicer to use." —anonymous; e-mail; January 25, 2003
"I really enjoyed fucking my Chasey Lain doll. The hair is soft and realistic. It was also easy to mount. I use a combination of vasiline and olive oil before I slide in, so after a few tries I was able to slide in real easy. I'm disappointed that the tits were not a little larger, but overall a great deal." —anonymous; e-mail; April 30, 2002
"Found your Chasey Lain review during a Deja News search. I personally like mine, and agree that the vagina and anus are FAR too tight. I have wrecked three or four condoms (yeah, I know, but they make cleaning way easier) on them." —"Someone Else"
"The Chasey pussy is too tight, indeed. The solution I found is to remove the inner structure, which takes too much place inside. Its not difficult and it will not harm the doll. After that the inside of the "empty" pussy is not too loose but it wraps directly around you with the air pressure inside the doll. That makes it much better to insert and to move inside." —anonymous; e-mail; May 7, 2002
"The tongue worked but it moved very slowly. I wished they it had no tongue because, like you said, the lips were more life-like. That would have made it better in my opinion." —Crazyjose
"I got really fucked up and cut her tongue out. She looks so much better and so much fuckable without it. So, if anyone else has this doll, cut the tongue out and patch it back as needed. Trust me, it's worth it. She'll be able to suck your dick if you do." —anonymous; E-Mail; January 14, 2001
"I agree with the others about cutting the tongue out. Then I carefully pulled the electric motor out through the mouth with a needle nose pliers. The blowjobs make it worth cutting that stuff out. The enclosed lube is a must for the vagina and anus but it does feel like the real thing. I found having her on top works best to extend the life of the doll because common sense says if you lay on her, you'll eventually blow the doll out (even tho there is a repair kit included). Her hands work well for self stimulation. Her hair is a red colored wig that in the dark makes for fun fantasy about past girlfriends." —anonymous; e-mail; April 26, 2002
If you have used this doll, please share your impressions through the feedback form provided below.

Adult Toy Reviews.com is not a store…We're better!
We are an independent consumer review site.
We offer links to more than a dozen on-line web stores.
Your purchase from any site marked with an † will help keep our independent consumer review service available and on the web. Or you can contact us to make a donation. Thank you for your participation.
List Price: U.S. $279.95
U.S. $205.00 SexToySex.com†
U.S. $219.95 69 Adult Toys†
U.S. $224.95 Discreet Online Shopping†
U.S. $258.00 SafeSexMall†
(see important notes below)
†Affiliate: Listings marked with a † are affiliates. If you decide to purchase from this source, please use the link provided. The use of this link will result in a token affiliate payment that will help keep this site on the web. We can't vouch for any affiliate's honesty and remain neutral about whom you should buy from.
NOTE: We can not vouch for the honesty of any of the listed sources. References to commercial sources and their prices provided as a courtesy to the reader. We do not work for any of these organizations. When comparing prices, remember to add in shipping and handling charges, taxes, and other fees. Prices and availability of specific items subject to change (if you notice that a price has changed or an item is no longer available from a listed source, please e-mail us).

related products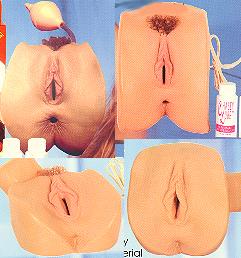 Chasey Lain Realistic Vaginas
"Actually modeled from the beautiful Chasey Lain." —Convergence Inc: Chasey Lain Realistic Vagina

Chasey Lain Video

The Chasey Lain Inflatable Fantasy Playmate has a face, head, tits, vagina, anus, hands, and feet molded from Chasey herself. The mannequin head is molded to look like the porno actress, including long red hair. The latex vagina (and anus) are molded from the porno starlet. This doll can be fucked while watching video tapes of Chasey Lain, heightening the experience.

"Check out the beautiful Chasey in one of her hit movies. $13" —Convergence Inc: Chasey Lain Videos

some of the sources on the web:

premium sites

specialty sites

discount sites

general sites

Shopping through these links may result in a small percentage of your purchase helping keep this site on the web.
(Many of the sites have tricky rules, so we don't always get a percentage, but it can't hurt to try.).
This web page is about the Chasey Lain Inflatable Fantasy Playmate.


[ complete table of contents ] [ feature by feature comparison ]
[ home ] [ the inflatable doll experience ] [ price comparison ] [ links ]


other
privacy statement
Unlike most web sites, we inform our visitors about our privacy policy. AdultToyReviews.com does collect generic information from visitors for statistical analysis (nation, browser, operating system, screen resolution, and monitor size) — any web site you visit can and probably does collect this information (and more). All individual identification information is immediately discarded (except for subscription information if you join our mailing lists). Information is never sold to outside mailing lists or any other purposes.
feedback
Share information with other love doll enthusiasts. Give real user feedback on which dolls are good, which dolls are bad, and why. Let's replace advertising hype with solid information derived from actual experience.
All questions are optional. Pick and choose the ones you want to answer.
code word xzqj27
Chasey Lain Inflatable Fantasy Playmate
Some text and pictures copyright © Convergence Inc. Used by permission.
Copyright © 1998, 1999, 2000, 2001, 2002, 2003, 2004, 2005 contact00@AdultToyReviews.com
Last Updated: June 10, 2005
Created: May 24, 1998
Inflatable Doll Home Page
Author of Chasey Lain Inflatable Fantasy Playmate page: contact00@AdultToyReviews.com
If you write, please label your message as "Chasey Lain Love Doll" to help separate it from SPAM (which gets tossed unread).

[ main toy home page ] [ toy info ] [ sorted by color ] [ sorted by material ] [ rabbits ] [ butterflies ] [ remote control ] [ strap-on harnesses ] [ dildoes ] [ double dildoes ] [ glass dildoes ] [ hands and fists ] [ vibrators ] [ massagers ] [ sleeves ] [ eggs and bullets ] [ clitoral stimulators ] [ waterproof vibrators ] [ anal probes and butt plugs ] [ beads ] [ breast pumps and nipple exciters ] [ balls ] [ erotic jewelry ] [ cock rings ] [ bondage ] [ lubricants, oils, and creams ] [ barriers ] [ hygiene ] [ erotic clothing ] [ transvestite items ] [ kits ] [ artificial vaginas ] [ male masturbators ] [ dolls ] [ penis pumps ] [ novelties ] [ DVDs ] [ videos ] [ books ] [ words ]
[ complete table of contents ] [ feature by feature comparison ]
[ home ] [ the inflatable doll experience ] [ price comparison ] [ links ]