Christy Canyon Realistic Doll

A review of the Christy Canyon Realistic Doll. A fantasy sex doll review on the unofficial, unauthorized love doll lover's web site.
complete table of contents listing all dolls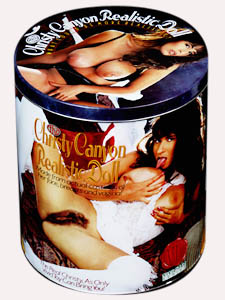 Category: inflatable female love doll
This doll is based on Christy Canyon, the porn starlet, and can be used in fantasy sex play while watching her porn videos.
"Made from actual casts of her face, breasts, and vagina. Her body is a softer material than the usual rubber vinyl used on other dolls. The vagina is a realistic rubber molded vagina. A vibrating mouth that pulsates too. Fully movable arms. Permanent makeup and realistic hair. A washable doll in a reusable metal case. 2 AA Batteries not included." —Convergence Inc.
"Made of actual castings from Christy's lovely face, massive boobs and tight vagina, this superb Realistic™ doll is ready for action! Inflate and climb aboard for tons of stimulation and hard core pumping!" —Discreet Online Shopping
"The most realistic doll ever developed (they say)! Made from actual castings of Christy's face, breasts and vagina! Explore her entire body and enter her vibrating, pulsating mouth. Feel her soft, supple skin next to yours. Comes in Designer Can for Easy Storage." —SafeSexMall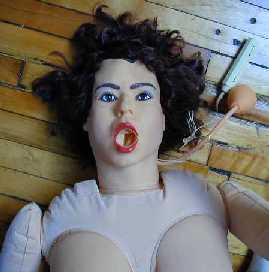 "She has a rubber inflatable head with an open mouth. The bulb seen in the picture creates a sort of suction in the mouth. The one we tested didn't tighten the mouth that much when the bulb was squeezed, but it did do something. There is also a vibration device that vibrates the mouth." —SexToySex.com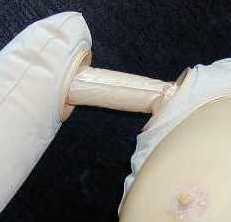 "The arms are movable. You can see in the picture that the arms have to be locked together and then they can rotate 360 degrees." —Convergence Inc.

Has a separate rubber vagina that you insert when blowing up the doll.

"Her body is made of a softer material than the usual vinyl rubber love doll. This is probably the best feature of the doll. The vagina is a separate rubber vagina that you actually insert when blowing up the doll. It would probably be possible to insert other realistic vaginas into this doll (check out the cyberskin vaginas)." —SexToySex.com

"Her boobs are made of a rubber type material and are pretty big." —SexToySex.com

"On her back side their was a place that it looked like you could cut open to make it available for anal entry, but we didn't cut it open and sorry we didn't take a picture." —Convergence Inc.
Vibrations: multi-speed
Clothing sizes:
dress:
bra:
corset:
panties:
shoe:
Batteries Required: Two (2) AA cells

Manufacturer: Vivid
See also: Christy Canyon Vagina.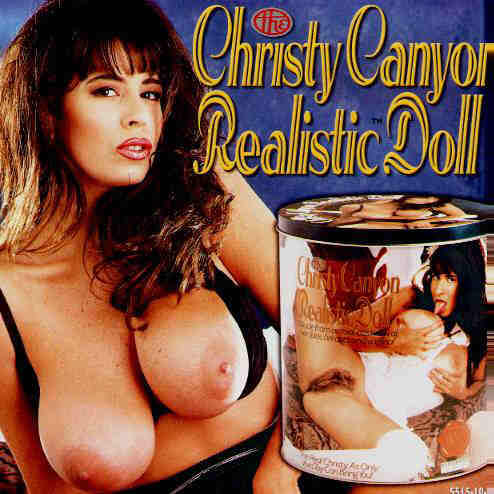 "Looks like Christy's sensual face, tits, and velveteen skin were designed by a woman, but pussy designed by an engineer. Ingenious rubber insert in a long cup-tube in a pussy hole. But this lay-man found it tricky to get it all assembled and locked into place. Easiest when half-inflated. After a year the plasticky tube got brittle and cracked. And more difficult to set the insert in the round groove to hold it in place when she's standing up or lying above. Started to leave aside the insert and enjoy her open entry with passion-pink folds. Still a deluxe pleasure to hold. Warm wifey face, crystal brown eyes, full lashes, lusty porny tits, and tongue teasing nodules. When new she had a virginal circle of fabric covering one entry. It's not there now." —Inspired Guy; e-mail; February 2, 2003
"Christy in a can. Fun idea. She has nice features and some trade-offs. Her full round face, pretty eyes, cute nose and dark hair look real enough to imagine laying with a familiar full-figure woman. Her rubbery wide breasts looked huge, but were very comfy to lay on or under. Most of her skin has a unique soft velvety feel. Trade-off: it attracts lint. Both arms rotate around front, she looks inviting and can almost hug. Trade-off: If much squeezing or bouncing (not likely) an arm might come off socket. Solution: Deflate some, put cyber powder in circular grove, put gently back on track.Her molded pussy has a firm and pliable rubbery feel, big and inviting. The insert goes into an open tube thats also removable for washing. The heavy insert may start to drop out when she's laying on top!. But, she's a real doll and shows appreciation for a little practice and patience." —Inspired Guy; e-mail; January 28, 2003
"I bought this doll and was especially disappointed with the vagina and its position. It sits on top of the doll and is nowhere near being anatomically correct. It also does not insert properly. I think that it is a truly cumbersome product. I am a true Christy fan, but I threw out this $175 doll after one try." —anonymous; E-Mail; February 12, 2002
If you have used this doll, please share your impressions through the feedback form provided below.

Adult Toy Reviews.com is not a store…We're better!
We are an independent consumer review site.
We offer links to more than a dozen on-line web stores.
Your purchase from any site marked with an † will help keep our independent consumer review service available and on the web. Or you can contact us to make a donation. Thank you for your participation.
List Price: U.S. $174.95
U.S. $136.00 SexToySex.com†
U.S. $106.95 Discreet Online Shopping†
(see important notes below)
†Affiliate: Listings marked with a † are affiliates. If you decide to purchase from this source, please use the link provided. The use of this link will result in a token affiliate payment that will help keep this site on the web. We can't vouch for any affiliate's honesty and remain neutral about whom you should buy from.
NOTE: We can not vouch for the honesty of any of the listed sources. References to commercial sources and their prices provided as a courtesy to the reader. We do not work for any of these organizations. When comparing prices, remember to add in shipping and handling charges, taxes, and other fees. Prices and availability of specific items subject to change (if you notice that a price has changed or an item is no longer available from a listed source, please e-mail us).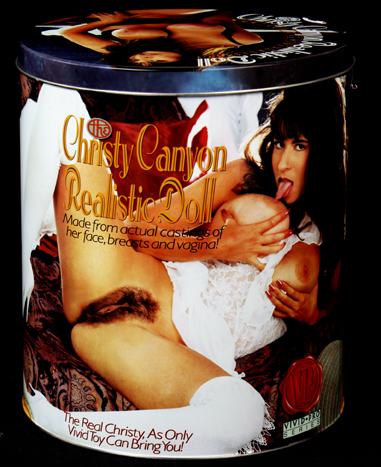 some of the sources on the web:

premium sites

specialty sites

discount sites

general sites

Shopping through these links may result in a small percentage of your purchase helping keep this site on the web.
(Many of the sites have tricky rules, so we don't always get a percentage, but it can't hurt to try.).
This web page is about the Christy Canyon Realistic Doll.

[ complete table of contents ] [ feature by feature comparison ]
[ home ] [ the inflatable doll experience ] [ price comparison ] [ links ]


other
privacy statement
Unlike most web sites, we inform our visitors about our privacy policy. AdultToyReviews.com does collect generic information from visitors for statistical analysis (nation, browser, operating system, screen resolution, and monitor size) — any web site you visit can and probably does collect this information (and more). All individual identification information is immediately discarded (except for subscription information if you join our mailing lists). Information is never sold to outside mailing lists or any other purposes.
feedback
Share information with other love doll enthusiasts. Give real user feedback on which dolls are good, which dolls are bad, and why. Let's replace advertising hype with solid information derived from actual experience.
All questions are optional. Pick and choose the ones you want to answer.
Christy Canyon Realistic Doll
Some text and pictures copyright © Convergence Inc. Used by permission.
Copyright © 2001, 2002, 2003, 2005 contact00@AdultToyReviews.com
Last Updated: June 11, 2005
Created: January 23, 2001
Inflatable Doll Home Page
Author of Christy Canyon Realistic Doll page: contact00@AdultToyReviews.com
If you write, please label your message as "Christy Canyon Doll" to help separate it from SPAM (which gets tossed unread).

[ main toy home page ] [ toy info ] [ sorted by color ] [ sorted by material ] [ rabbits ] [ butterflies ] [ remote control ] [ strap-on harnesses ] [ dildoes ] [ double dildoes ] [ glass dildoes ] [ hands and fists ] [ vibrators ] [ massagers ] [ sleeves ] [ eggs and bullets ] [ clitoral stimulators ] [ waterproof vibrators ] [ anal probes and butt plugs ] [ beads ] [ breast pumps and nipple exciters ] [ balls ] [ erotic jewelry ] [ cock rings ] [ bondage ] [ lubricants, oils, and creams ] [ barriers ] [ hygiene ] [ erotic clothing ] [ transvestite items ] [ kits ] [ artificial vaginas ] [ male masturbators ] [ dolls ] [ penis pumps ] [ novelties ] [ DVDs ] [ videos ] [ books ] [ words ]
[ complete table of contents ] [ feature by feature comparison ]
[ home ] [ the inflatable doll experience ] [ price comparison ] [ links ]