Eggs and Bullets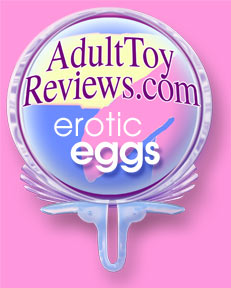 Eggs (or bullets) are small vibrators in the shape of an egg. These are the actual vibrators that are inside many other sex toys, but with the rest of the toy stripped away. Eggs can be purchased separately and used by themselves or as the basis for home made toys. These can be used as very small compact vibrators to tuck into clothing or other exciting places. Because of the delicate cord, eggs and bullets are intended for external use only (unless you use one to craft your own homemade vibrating toy. Eggs and bullets are most often used for clitoral stimulation during partner sex. See also vibrators.
Magnums are eggs that are extra long, making vaginal insertion possible. Combinations either two eggs or an egg and another vibrator attached to the same controller.
"We believe if you have a positive experience with a sex toy, you'll keep coming back for more. If you don't, you may never try another again. I've been selling sex toys for a long time and can assure you that a lot of what's out there is cheaply made (falls apart easily, breaks down, smells bad, or in some cases is just dangerous). Sometimes it's worth it to pay a little more for a toy, or try and find out what toys sell the best, or have been reviewed by other customers." —Anne Semans from Libida.com, author of "The Mother's Guide to Sex", "The New Good Vibrations Guide to Sex", and "The Woman's Guide to Sex on the Web"
care and use
Lubricants can make the use of most toys more pleasureable. There are a number of different lubricants available. Never use oil or petroleum based lubricants with latex toys. Use water based lubricants with toys, as oil or petroleum based lubricants can melt or destroy some toys (especially any toy made of latex or Cyberskin). Lubricants are available in flavored and unflavored varieties. Unflavored lubricants are better quality than flavored lubricants (flavored lubricants are primarily for use with oral sex).
Toys shared between partners can carry sexually transmitted diseases. The safe sex method is to either not share toys are to use a condom on shared toys. Do not move a toy from the anus to the vagina without washing it first, as this can transmit bacteria (even in the the same person).
Clean eggs with warm water and soap after each use, then rinse and thoroughly dry before storage. Be careful never to tug on the cord, as it will come loose easily. If a vibrating egg is used inside the vagina, pull the egg out with your fingers, do not tug on the cord. Do not use an egg or other vibrating toy on a cord inside the anus. Battery powered devices are air cooled, if they don't have access to air, they can become hot enough to burn. Do not fall asleep with a vibrating egg turned on.

eggs
Eggs: eVibe, Pink Pearl, Remote Control Vibrating Egg, Silver Bullet
Remote control eggs: Remote Control Vibrating Egg
Egg controllers: MSX controller
bullets
Bullets: Auto Erotic Single Bullet Red, Auto Erotic Double Bullet Blue, the Bullet, 5X Giga Power Space Explorer's Bullet, Silver Bullet
combinations
Egg/dildo combination: Bobbi Sue
Egg/vibrator combination: Acrylic Double Ecstasy
prices

[ home ] [ toy info ] [ sorted by color ] [ sorted by material ] [ rabbits ] [ butterflies ] [ remote control ] [ strap-on harnesses ] [ dildoes ] [ double dildoes ] [ glass dildoes ] [ hands and fists ] [ vibrators ] [ massagers ] [ sleeves ] [ eggs and bullets ] [ clitoral stimulators ] [ waterproof vibrators ] [ anal probes and butt plugs ] [ beads ] [ breast pumps and nipple exciters ] [ balls ] [ erotic jewelry ] [ cock rings ] [ bondage ] [ lubricants, oils, and creams ] [ barriers ] [ hygiene ] [ erotic clothing ] [ transvestite items ] [ kits ] [ artificial vaginas ] [ male masturbators ] [ dolls ] [ penis pumps ] [ novelties ] [ DVDs ] [ videos ] [ books ] [ words ]
privacy statement
Unlike most web sites, we inform our visitors about our privacy policy. AdultToyReviews.com does collect generic information from visitors for statistical analysis (nation, browser, operating system, screen resolution, and monitor size) — any web site you visit can and probably does collect this information (and more). All individual identification information is immediately discarded (except for subscription information if you join our mailing lists). Information is never sold to outside mailing lists or any other purposes.

code word xzqj07
Copyright © 2001, 2002, 2005 AdultToyReviews.com
Last Updated: June 13, 2005
[ home ] [ toy info ] [ sorted by color ] [ sorted by material ] [ rabbits ] [ butterflies ] [ remote control ] [ strap-on harnesses ] [ dildoes ] [ double dildoes ] [ glass dildoes ] [ hands and fists ] [ vibrators ] [ massagers ] [ sleeves ] [ eggs and bullets ] [ clitoral stimulators ] [ waterproof vibrators ] [ anal probes and butt plugs ] [ beads ] [ breast pumps and nipple exciters ] [ balls ] [ erotic jewelry ] [ cock rings ] [ bondage ] [ lubricants, oils, and creams ] [ barriers ] [ hygiene ] [ erotic clothing ] [ transvestite items ] [ kits ] [ artificial vaginas ] [ male masturbators ] [ dolls ] [ penis pumps ] [ novelties ] [ DVDs ] [ videos ] [ books ] [ words ]