rabbits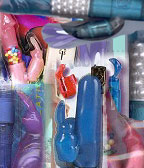 Rabbits are the "power tool" of vibrators. Typically they have three, four, five, or more kinds of stimulation going on simultaneously. Usually they are in the shape of a cylinder vibrator with a little "rabbit" for clitoral stimulation, with additional features added to those two basics. There are also other "animal" vibrators, including polar bears, beavers, and other animals for those who want variety.
Rabbits were the first sex toy in modern times designed by a woman, which may explain why rabbits tend to be the most popular sex toy among women.
There are many versions of rabbits now available, ranging from cheap junk to high quality deluxe models.
The three key characteristics of a rabbit are: (1) a cylinder vibrator, (2) spinning beads or pearls, and (3) the vibrating and/or wiggling rabbit.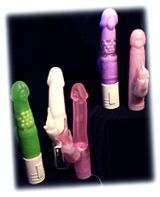 The main shaft of the rabbit is the same as any ordinary cylinder vibrator. The shaft is intended to be inserted vaginally and can stimulate the G-spot. While most rabbits have a hard plastic cylinder, some of the more expensive versions are made of softer materials, including "jelly" (a soft, flexible material). Hard plastic rabbits can be covered with the same soft sleeves as are used for ordinary cylinder vibrators. The cylinder portion of a rabbit comes in the smoothie and realistic varieties. Smoothies are smooth plastic (or other material), while realistics have the shape and contour of a penis. Ridges, bumps, twists, twirls, and other shapes are sometimes used.
The base of a rabbit has pearls or beads that spin to stimulate the vaginal lips. Some cheap rabbits leave out the beads.
The rabbit is plastic shaped into the form of a rabbit. The body of the rabbit typically contains an egg vibrator for stimulating the clitoris. Some of the more expensive rabbits also have ears that wiggle. There are a variety of devices that work just like the rabbit but feature a different animal (such as a koala bear, ladybug, etc.).
The more expensive rabbits have controllers that allow the various parts to be turned on and off independently, while the cheap rabbits have everything on a single control. Almost all rabbits allow for a variation in the intensity of the vibrations, either all parts at the same intensity or each part with a different intensity setting.
"We believe if you have a positive experience with a sex toy, you'll keep coming back for more. If you don't, you may never try another again. I've been selling sex toys for a long time and can assure you that a lot of what's out there is cheaply made (falls apart easily, breaks down, smells bad, or in some cases is just dangerous). Sometimes it's worth it to pay a little more for a toy, or try and find out what toys sell the best, or have been reviewed by other customers." —Anne Semans from Libida.com, author of "The Mother's Guide to Sex", "The New Good Vibrations Guide to Sex", and "The Woman's Guide to Sex on the Web"
Note: The Jack Rabbit is the best selling sex toy in the world, but this is the result of marketing momentum, not actual quality. There are many much better made rabbits available. See the list below for alternative rabbits.
The Ravenous Rabbit is the number one (1) top selling multi-vibe at SexToySex.com.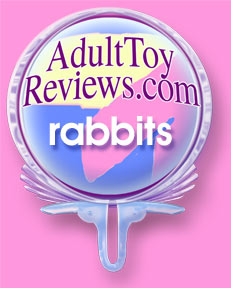 rabbits
colors
Clear: Beyond 2000 Waterproof Multi-Vibe — Clear
Caucasian: Virtual Skin™ Ultra Rabbit
Black: Jack Rabbit Harness [clitoral stimulator and strap-on]
White: Rockin Rabbit
Crystal White: Crystal Rabbit Vibe
Purple: Beyond 2000 Waterproof Multi-Vibe — Purple, Hop N Rabbit Stroker, iVibe Rabbit (grape), Ravenous Rabbit, Sue Johanson Royal Majesty Purple, Waterproof Impulse Playful Dolphin, Waterproof Wabbit Vibe
Lavendar: Reckless Rabbit, Waterproof Triple Treat Lady Bug Lavender
Pink: Bunny Rabbit Pink, F-KIN Rabbit Vibrator MultiSpeed, iVibe Rabbit (strawberry), Jack Rabbit, Rabbit Pearl
Red: Rechargable Rabbit, Jack Rabbit
Orange: iVibe Rabbit (tangerine)
Green: iVibe Rabbit (lime)
Cyan/Aqua: Decadent Indulgence 2 Vibe
Blue: iVibe Rabbit (blueberry), Techno Rabbit
See also: colors.
special features
Waterproof: Beyond 2000 Waterproof Multi-Vibe — Clear, Beyond 2000 Waterproof Multi-Vibe — Purple, Waterproof Impulse Playful Dolphin, Waterproof Rabbit Vibrator, Waterproof Triple Treat Lady Bug Lavender, Waterproof Wabbit Vibe
Pumping action: Hop N Rabbit Stroker
prices

[ home ] [ toy info ] [ sorted by color ] [ sorted by material ] [ anal toys ] [ anal probes ] [ artificial vaginas ] [ balls ] [ barriers ] [ batteries ] [ beads ] [ belly dancing ] [ bondage ] [ books ] [ breast pumps and nipple exciters ] [ butterflies ] [ butt plugs ] [ candles ] [ clitoral stimulators ] [ clothing ] [ cock rings ] [ dildoes ] [ dolls ] [ double dildoes ] [ DVDs ] [ edible ] [ eggs and bullets ] [ erotic clothing ] [ glass toys ] [ g-spot stimulators ] [ hands and fists ] [ erotic jewelry ] [ hygiene ] [ kits ] [ lubricants, oils, and creams ] [ male masturbators ] [ massagers ] [ nipple exciters ] [ novelties ] [ penis pumps ] [ rabbits ] [ remote control ] [ sleeves ] [ strap-on harnesses ] [ stripper ] [ transvestite items ] [ vac-u-lock ] [ vaginas ] [ vibrators ] [ videos ] [ waterproof vibrators ] [ wigs ]
privacy statement
Unlike most web sites, we inform our visitors about our privacy policy. AdultToyReviews.com does collect generic information from visitors for statistical analysis (nation, browser, operating system, screen resolution, and monitor size) — any web site you visit can and probably does collect this information (and more). All individual identification information is immediately discarded (except for subscription information if you join our mailing lists). Information is never sold to outside mailing lists or any other purposes.

code word xzqj55
Copyright © 2001, 2002, 2003, 2004, 2005 AdultToyReviews.com
Last Updated: November 13, 2005
[ home ] [ toy info ] [ sorted by color ] [ sorted by material ] [ anal toys ] [ anal probes ] [ artificial vaginas ] [ balls ] [ barriers ] [ batteries ] [ beads ] [ belly dancing ] [ bondage ] [ books ] [ breast pumps and nipple exciters ] [ butterflies ] [ butt plugs ] [ candles ] [ clitoral stimulators ] [ clothing ] [ cock rings ] [ dildoes ] [ dolls ] [ double dildoes ] [ DVDs ] [ edible ] [ eggs and bullets ] [ erotic clothing ] [ glass toys ] [ g-spot stimulators ] [ hands and fists ] [ erotic jewelry ] [ hygiene ] [ kits ] [ lubricants, oils, and creams ] [ male masturbators ] [ massagers ] [ nipple exciters ] [ novelties ] [ penis pumps ] [ rabbits ] [ remote control ] [ sleeves ] [ strap-on harnesses ] [ stripper ] [ transvestite items ] [ vac-u-lock ] [ vaginas ] [ vibrators ] [ videos ] [ waterproof vibrators ] [ wigs ]