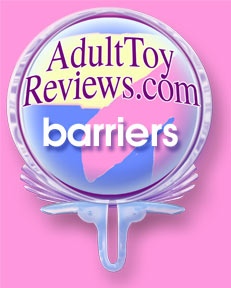 Barriers
Condoms, Dams, and Gloves
Barriers are used for safer sex (even the best barriers sometimes fail). These include condoms, dental dams (used for cunnilingus), and gloves.

condoms

dams

gloves
if you like this site:
Please support this independent adult sex toy review site by:
Share your experiences (you can request that your reviews be anonymous).
Bookmark this site and use our links if you purchase from one of the stores listed below.
Add a link to this site on your web page <a href="http://www.AdultToyReviews.com/">AdultToyreviews.com</a> .

[ home ] [ toy info ] [ sorted by color ] [ sorted by material ] [ anal toys ] [ anal probes ] [ artificial vaginas ] [ balls ] [ barriers ] [ batteries ] [ beads ] [ belly dancing ] [ bondage ] [ books ] [ breast pumps and nipple exciters ] [ butterflies ] [ butt plugs ] [ candles ] [ clitoral stimulators ] [ clothing ] [ cock rings ] [ dildoes ] [ dolls ] [ double dildoes ] [ DVDs ] [ edible ] [ eggs and bullets ] [ erotic clothing ] [ glass toys ] [ g-spot stimulators ] [ hands and fists ] [ erotic jewelry ] [ hygiene ] [ kits ] [ lubricants, oils, and creams ] [ male masturbators ] [ massagers ] [ nipple exciters ] [ novelties ] [ penis pumps ] [ porn star ] [ rabbits ] [ remote control ] [ sleeves ] [ strap-on harnesses ] [ stripper ] [ transvestite items ] [ vac-u-lock ] [ vaginas ] [ vibrators ] [ videos ] [ waterproof vibrators ] [ wigs ]
privacy statement
Unlike most web sites, we inform our visitors about our privacy policy. AdultToyReviews.com does collect generic information from visitors for statistical analysis (nation, browser, operating system, screen resolution, and monitor size) — any web site you visit can and probably does collect this information (and more). All individual identification information is immediately discarded (except for subscription information if you join our mailing lists). Information is never sold to outside mailing lists or any other purposes.

code word xzqj60
Copyright © 2001, 2002, 2005 AdultToyReviews.com
Last Updated: April 21, 2005
[ home ] [ toy info ] [ sorted by color ] [ sorted by material ] [ anal toys ] [ anal probes ] [ artificial vaginas ] [ balls ] [ barriers ] [ batteries ] [ beads ] [ belly dancing ] [ bondage ] [ books ] [ breast pumps and nipple exciters ] [ butterflies ] [ butt plugs ] [ candles ] [ clitoral stimulators ] [ clothing ] [ cock rings ] [ dildoes ] [ dolls ] [ double dildoes ] [ DVDs ] [ edible ] [ eggs and bullets ] [ erotic clothing ] [ glass toys ] [ g-spot stimulators ] [ hands and fists ] [ erotic jewelry ] [ hygiene ] [ kits ] [ lubricants, oils, and creams ] [ male masturbators ] [ massagers ] [ nipple exciters ] [ novelties ] [ penis pumps ] [ porn star ] [ rabbits ] [ remote control ] [ sleeves ] [ strap-on harnesses ] [ stripper ] [ transvestite items ] [ vac-u-lock ] [ vaginas ] [ vibrators ] [ videos ] [ waterproof vibrators ] [ wigs ]