Lorissa Love Doll

A review of the Lorissa Love Doll. A fantasy sex doll review on the unofficial, unauthorized love doll lover's web site.
complete table of contents listing all dolls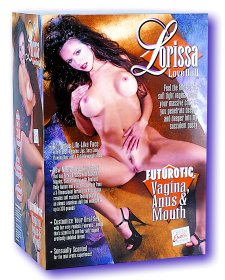 Category: inflatable female love doll
This doll is based on Lorissa, the porn starlet, and can be used in fantasy sex play while watching her porn videos.
The Lorissa Love Doll is a deluxe doll, with molded pussy, anus, and mouth. The Lorissa Love Doll has a full a mannequin head, the most natural looking head of any doll. The Lorissa Love Doll is a tall, skinny doll, which should please those looking for more adult-looking dolls. The arms, waist, and legs are a little longer than natural. The body of the Lorissa Love Doll is smoother than most vinyl dolls and has very few seams, putting this doll somewhere between a typical vinyl doll and a latex doll. The Lorissa Love Doll has a better shape than most dolls. The tits and the ass are more naturally shaped than any other vinyl or latex doll. The Lorissa Love Doll's breasts are small but are distinctively and realistically shaped — but they don't shrink on inflation (that is the size intended by the manufacturers). The ass has not just the right general shape, but is accurate in detail — much more detail than any latex doll. The detail in the molding even includes a belly button.
The holes on the Lorissa Love Doll start out rather stiff and difficult to enter, but just a few hours with an ordinary dildo inserted will loosen them up. Once loosened up, the holes are reasonably comfortable. Not as nice as the best stand-alone vaginas (or even the CyberChic Sex Doll's CyberSkin pussy), but much better than the typical vinyl doll hole.

"Lorissa Love Doll — Love doll with ultra soft realistic vagina, anus, and mouth. This doll's almost seamless design gives it added strength and realistic feeling. She also has a full size mannequin head." —SexToySex.com
"Life-like incredibly realistic doll with a futurotic vagina, anus, and mouth is made of a new 3-dimensional, almost seamless, design providing added strength and a forming technique which creates a soft feeling. Sensually scented, and vibrates too." —Discreet Online Shopping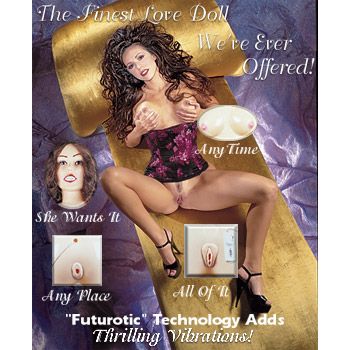 "The Finest Love Doll We've Ever Offered!
"Futurotic" Technology Adds Thrilling Vibrations!
"Now complete your wildest fantasies as often as you desire! Enjoy the shape and feel of a real woman with Lorissa's functioning mouth, vagina, and anus—all so tight, warm and soft!" — Adam & Eve
Gorgeous life-like face, full-sized head.
Sensual, long flowing hair.
Natural-looking…and 5 foot-six!
Suckable nipples and smooth skin.
Slender waist, belly button, and cute butt.
Seamless body design holds up to 330 pounds.
Wonderfully scented.

"Lorissa is always ready for sex—this sweet thing deep-throats with ease and will happily tantalize your erection with her erotically-noduled throat and sized-to-fit mouth! Her pussy can't wait for you to enter. Her ass is yours to do as you please!" — Adam & Eve

"WAIT! There's MORE! Lorissa comes with a special vibrating bullet—"Futurotic" technology lets you place it inside for additional orgasmic thrills and countless combinations (uses 2 AA batteries, included). She is truly the hottest new sex star around—and she can be all yours!" — Adam & Eve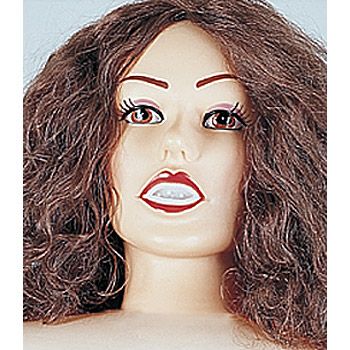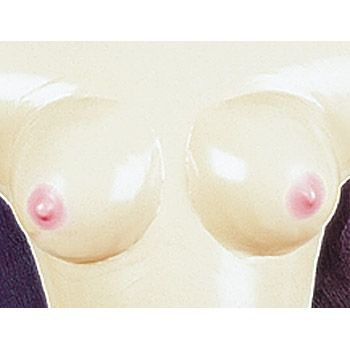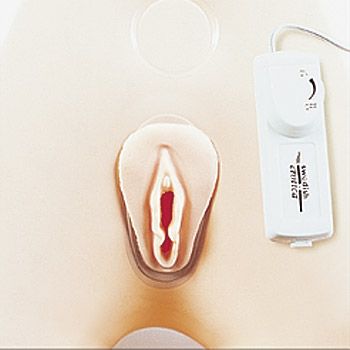 ---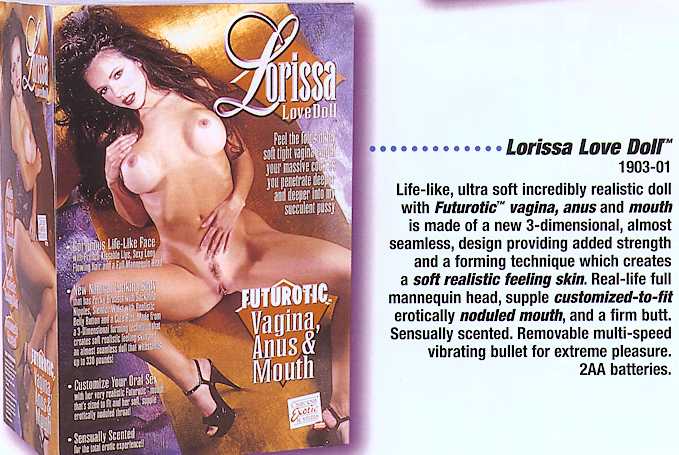 Lorissa Love Doll front box cover

Lorissa Love Doll

Feel the folds of my soft tight vagina engulf your massive cock as you penetrate deeper and deeper into my succulent pussy

Gorgeous Life-Like Face with French Kissable Lips, Sexy Long Flowing Hair and a Full Mannequin Head
New Natural Looking Body that has Perky Breasts with Suckable Nipples, Slender Waist with Realistic Belly Button nd Vute Butt. Made from a 3-Dimensional forming technique that creates soft realistic feeling skin and an almost seamless doll that withstands up to 330 pounds!
Customize Your Oral Sex with her very realistic Futurotic™ mouth that's sized to fit and her soft, supple erotically noduled throat!
Sensually Scented for the total erotic experience!

FUTUROTIC Vagina, Anus & Mouth

California Exotic Novelties

swedish erotica®
---
Lorissa Love Doll back box cover

Customized Oral Sex!!

To create the perfect blow-job, you can size the mouth to fit your cock.

Simply cut one small slit on either side of the mouth's opening using a sharp knife. Don't worry about the slits ripping as thi area is reinforced and durable. The mouth will spring back into its original position when the penis is removed.

California Exotic Novelties

swedish erotica®

Lorissa Love Doll

She's Ultra Life-Like and Orally Customizable for the Ultimate Pleasure!

The Lorissa Love Doll™ has a multitude of sensual features to keep your fantasies alive and thrilling. The Futurotic™ Vagina and Anus has an ultra life-like feel. A powerful vibrating bullet has its own pocket in the doll to provide stimulating sensations through the vagina and anus with the Swedish Erotica battery pack.

Lorissa's mouth, also Futurotic™, has french-kissable lips and can be sized to fit for comfort and pleasure. Her throat is soft and supple with textural nodes for ecstasy! Coupled with her gorgeous mannequin face and flowing auburn hair brings you incredible realism.

The overall construction of the doll has a modern, almost-seamless, design providing added strength and a more life-like presentation. This doll can handle any man up to 330 pounds! With suckable breasts, a lender waist and a killer butt, the fantasy is complete.

FUTUROTIC™ Vagina, Anus & Mouth

Soft supple vibrating Futurotic™ Pussy with erotically noduled ticklers.

Futurotic™ Anus with vibrating bullet pocket.

She's ready for you at both ends for your love!

Adjust her size-to-fit mouth for the perfect oral pleasure!

SE-1903-01-3

©Copyright 1999 by California Exotic Novelties, Inc., Chino, CA. Made in China. USES 2 AA BATTERIES, NOT INCLUDED. SOLD AS A NOVELTY ONLY. Surf our website at: www.calexotics.com

All rights reserved. The shape and appearance of this package is a trademark and trade dress of California Exotic Novelties, Inc.

Wash before and after each use. Do not get battery end of vibrator wet. DO NOT IMMERSE IN WATER. Do not share with other sexual partners. Help to prevent sexually transmitted diseases through the use of condoms, sexual education, proper judgement and rigorous, diligent care. Remove batteries when not in use. ALWAYS USE A RUBBER COMPATIBLE LUBRICANT WITH THIS PRODUCT FOR MAXIMUM PLEASURE.

Compliance with title 18 U.S.C. 2257, labeling requirements of explicit materials, "Lorissa Love Doll" was produced 10/30/99. All models are 18 years of age or older and all records are maintained at C.E.N., 14235 Ramona Ave., Chino, CA 91710. Contact: S. Colvin.
---
Lorissa Love Doll side box cover

Lorissa Love Doll

FUTUROTIC™ Vagina, Anus & Mouth

I want it in the ass with your hard pounding, thrusting rod penetrating deep inside me!

California Exotic Novelties

swedish erotica®
Lorissa Love Doll side box cover

Lorissa Love Doll

California Exotic Novelties

swedish erotica®

Holds Up To 330 Pounds

Soft Realistic Feeling Skin

Sensually Scented

CARE INSTRUCTIONS

In order to protect and maintain your new Futurotic™ product, follow the steps below after each use:

Wash with cold water & soap
Remove excess water and allow to dry naturally
Apply Talc inside and outside of product to maintain that original soft feeling

Talc included

FUTUROTIC™ Vagina, Anus & Mouth
---
Lorissa Love Doll top box cover

Lorissa Love Doll

Slip your hard cock between my full lips and luscious mouth so I can suck you dry!

California Exotic Novelties

swedish erotica®

FUTUROTIC™ Vagina, Anus & Mouth
---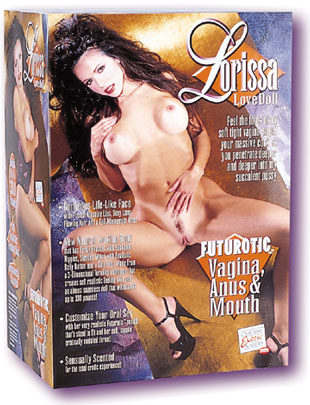 Vibrations: multi-speed
Clothing sizes:
dress:
bra:
corset:
panties:
shoe:


Material: vinyl and Futurotic™
Batteries Required: Two (2) AA cells

Manufacturer: California Exotic Novelties (formerly Swedish Erotic) product #SE1903-0

"I have experience with several dolls, and Lorissa is by far, the best. The description on this site is quite accurate — good size, excellent head and vagina, and great hair. A recurring problem I have had is a leak that develops beneath the (her) left armpit. Like virtually every other doll, the patch kit that accompanies Lorissa is useless for any leak that develops along a seam. Using some material from the other arm of a leaky Lorissa, I was able to make a "skin graft" over a new one where the leak normally occurs (using plenty of Shoe Goo cement). This has held for many months and a lot of pleasure. I DO recommend this doll." —anonymous; e-mail; January 12, 2003
"Wow, this is truly a great doll! It's comfortable and (if you keep her slightly under-inflated) flexible with very few seams. The pictures don't do it justice. Very affordable, but not "cheap." I've had it for months, and it has yet to develop any leaks. By contrast, the Chasey Lain doll blew up during its fourth use. I highly recommend this doll, and I imagine that the other dolls that are made the same way are equally-good. Looks great dressed up, and feels a bit better, too." —anonymous; e-mail; April 3, 2002
If you have used this doll, please share your impressions through the feedback form provided below.

Adult Toy Reviews.com is not a store…We're better!
We are an independent consumer review site.
We offer links to more than a dozen on-line web stores.
Your purchase from any site marked with an † will help keep our independent consumer review service available and on the web. Or you can contact us to make a donation. Thank you for your participation.
List Price: U.S. $203.50
U.S. $149.00 SexToySex.com†
U.S. $163.95 Discreet Online Shopping†
U.S. $179.95 Adam & Eve† Product #4687
U.S. $189.95 SafeSexMall†
(see important notes below)
†Affiliate: Listings marked with a † are affiliates. If you decide to purchase from this source, please use the link provided. The use of this link will result in a token affiliate payment that will help keep this site on the web. We can't vouch for any affiliate's honesty and remain neutral about whom you should buy from.
NOTE: We can not vouch for the honesty of any of the listed sources. References to commercial sources and their prices provided as a courtesy to the reader. We do not work for any of these organizations. When comparing prices, remember to add in shipping and handling charges, taxes, and other fees. Prices and availability of specific items subject to change (if you notice that a price has changed or an item is no longer available from a listed source, please e-mail us).

some of the sources on the web:

premium sites

specialty sites

discount sites

general sites

Shopping through these links may result in a small percentage of your purchase helping keep this site on the web.
(Many of the sites have tricky rules, so we don't always get a percentage, but it can't hurt to try.).
This web page is about the Lorissa Love Doll.

[ complete table of contents ] [ feature by feature comparison ]
[ home ] [ the inflatable doll experience ] [ price comparison ] [ links ]


other
privacy statement
Unlike most web sites, we inform our visitors about our privacy policy. AdultToyReviews.com does collect generic information from visitors for statistical analysis (nation, browser, operating system, screen resolution, and monitor size) — any web site you visit can and probably does collect this information (and more). All individual identification information is immediately discarded (except for subscription information if you join our mailing lists). Information is never sold to outside mailing lists or any other purposes.
feedback
Share information with other love doll enthusiasts. Give real user feedback on which dolls are good, which dolls are bad, and why. Let's replace advertising hype with solid information derived from actual experience.
All questions are optional. Pick and choose the ones you want to answer.
Lorissa Love Doll
Some text and pictures copyright © Convergence Inc. Used by permission.
Copyright © 2000, 2001, 2002, 2003, 2005 contact00@AdultToyReviews.com
Last Updated: June 12, 2005
Created: August 18, 2000
Inflatable Doll Home Page
Author of Talking Lora page: contact00@AdultToyReviews.com
If you write, please label your message as "Lorissa Love Doll" to help separate it from SPAM (which gets tossed unread).

[ main toy home page ] [ toy info ] [ sorted by color ] [ sorted by material ] [ rabbits ] [ butterflies ] [ remote control ] [ strap-on harnesses ] [ dildoes ] [ double dildoes ] [ glass dildoes ] [ hands and fists ] [ vibrators ] [ massagers ] [ sleeves ] [ eggs and bullets ] [ clitoral stimulators ] [ waterproof vibrators ] [ anal probes and butt plugs ] [ beads ] [ breast pumps and nipple exciters ] [ balls ] [ erotic jewelry ] [ cock rings ] [ bondage ] [ lubricants, oils, and creams ] [ barriers ] [ hygiene ] [ erotic clothing ] [ transvestite items ] [ kits ] [ artificial vaginas ] [ male masturbators ] [ dolls ] [ penis pumps ] [ novelties ] [ DVDs ] [ videos ] [ books ] [ words ]
[ complete table of contents ] [ feature by feature comparison ]
[ home ] [ the inflatable doll experience ] [ price comparison ] [ links ]