Virtual Girl Living Foam Doll

A review of the Virtual Girl Living Foam Doll. A fantasy sex doll review on the unofficial, unauthorized love doll lover's web site.
complete table of contents listing all dolls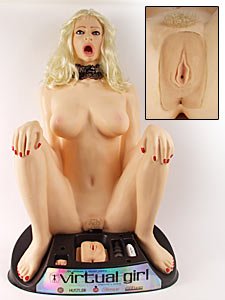 "The Virtual Girl Living Foam Doll is the 1st life size sex companion with Cyberskin lips, vagina, & anus. Made with life-like Virtex skin for Virtual Touch sex! She remains in a kneeling position & is about 3 feet tall. Love holes are not attached." —Discreet Online Shopping
"Hustler Virtual Sex Doll "Do me Missionary, Doggie Style, Side-by-Side or I can sit on top. I am at your COMMAND!" The First Life-Size Sex Companion Toy with CyberSkin Lips, Pussy and Ass, featuring lifelike Virtex™ Skin for Virtual Touch® Sex. Life Size 40 inches height and 18 inches wide. CyberSkin Lips, Pussy and Ass. Beautiful face, painted finger nails. Breasts with ripe full nipples. Sexy long flowing hair. Materials: CyberSkin Personal Lubricant NOT an Inflatable sex Doll." — 69 Adult Toys
"Hustler Virtual Girl was created with: A perfect body! Genuine IsoFoam construction with Skinthetic technology makes her firm and squeezable, with soft, life-like skin. A sensuous CyberSkin vagina/anus, featuring Virtual Touch technology for amazing authentic sensations. CyberSkin vagina/anus is also removable for use as a hand-held masturbator. Remove for easy cleaning care. Ultra-soft rubber lips for kissing and deep throat for other oral pleasures. Lovely sculpted features true blue eyes, and cascading blond hair. A versatile position to fulfill you every desire. LIFE-SIZE, Non-inflatable, Virtual Girl sex doll." — 69 Adult Toys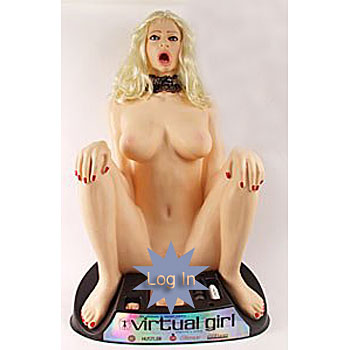 "The Ultimate In Sexual Reality!
"The Pinnacle of Sexual Technology!
"Finally, a woman that's ready 24-7 to act out your wildest sexual fantasy! Molded from an actual blonde beauty, Virtual Girl is THE most advanced and realistic love doll available! Virtual Girl is made of super-resilient IsoFoam, so you can pounce and bounce on her perfect body and she will always retain her original shape. Feast on her beautiful tits, caress her firm ass--her lifelike skin is elastic, smooth, and will provide you with thousands of erotic sessions! Sink your manhood into Virtual Girl's CyberSkin pussy and anus and you'll swear it's the real thing (vagina/anus are removable for easy cleaning)! Her lovely features include an open and willing mouth for sensuous sucking action, a delicate face, shimmering eyes, painted finger nd toe nails, and cascading blonde hair. Plus, Virtual Girl's ability to assume versatile positions will let you fulfill your every desire! Bring your ultimate fantasy girl home today!
"Includes a complimentary 1 oz. bottle of X-treme Lube and a bottle of CyberSkin Renew." — Adam & Eve
Vibrations: none
Clothing sizes:
dress:
bra:
corset:
panties:
shoe:
Batteries Required: none
Manufacturer: Hustler
See also:: Virtual Girl Vibrating Vagina Upgrade

"I received my virtual girl about a week ago and have used her every night. She is great always there to provide for me. Her skin is so soft and kissable. I hope I do not wearher out. She feels great in no matter what position I put her in. At night you would think you were with a actual live women. I would recommend a virtual girl to everyone." —anonymous; e-mail; Apr 23, 2003
"This product photo looks more like the 2002 - 2003 model that is in some of the stores.
"Compare the eye makeup, the lip color, the open mouth, and the updated hologram printing on the display container." —anonymous; e-mail; Feb 22, 2003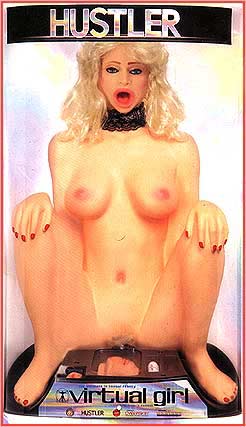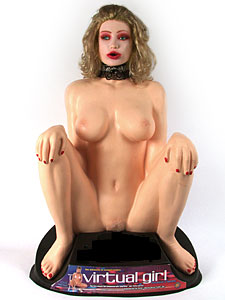 "Question: Web photos show two different pictures of V-Girl. My squeeze has platinum blonde hair, dark eye liner, perky nose, open mouth, and natural color lips. But, some photos show a gal with medium blonde hair and full red lips parted like she's blowing a kiss. Is it make-up, or photo touchup, or are there two different models?" —anonymous; e-mail; February 14, 2003
answer: The second picture is the original mock-up and was used in early publicity.
"My lovely doll-friend. Very expressive eyes, realistic 3D face and silky hair, kissable shoulders and chest, and lovely caressable breasts. Her squatting legs look and feel very sexy. Soft and shapely fingers and toes. And her curvy hips and cute round buns are irresistable. Very seductive and inviting lying on her back with firm breasts pushing up against my chest. Sitting on top she is light on her buns, bouncy, and in charge of my passion. Kneeling forward on the bed with her kissable, lickable, inviting buns, she's a great piece of ass and pussy. So pretty, it's hard to resist if she wants to sit on my face for affectionate pampering. Very nice to cuddle, finger, and fondle in the afterglow. Her body even warms up a little with hugging. Easy to wash her cyberskin insert. A warm wet towel and some gentle affection makes cleaning the rest a pleasure." —Inspired Guy; e-mail; January 17, 2003
"PS. My v-girl is a challenge to fit lingerie for because herarms rest on her legs. But an understanding saleslady helped recommend a couple of lacy and silky items without sleeves or tight waist that drape around her shoulders and arms, and enough material to flare around her legs, hips, and buns.And fun to lift up for affectionate licking." —Inspired Guy; e-mail; January 30, 2003
If you have used this doll, please share your impressions through the feedback form provided below.

Adult Toy Reviews.com is not a store…We're better!
We are an independent consumer review site.
We offer links to more than a dozen on-line web stores.
Your purchase from any site marked with an † will help keep our independent consumer review service available and on the web. Or you can contact us to make a donation. Thank you for your participation.
List Price: U.S. $599.99
U.S. $499.95 Discreet Online Shopping†
U.S. $599.95 69 Adult Toys†
U.S. $749.95 Adam & Eve† product #3393
(see important notes below)
†Affiliate: Listings marked with a † are affiliates. If you decide to purchase from this source, please use the link provided. The use of this link will result in a token affiliate payment that will help keep this site on the web. We can't vouch for any affiliate's honesty and remain neutral about whom you should buy from.
NOTE: We can not vouch for the honesty of any of the listed sources. References to commercial sources and their prices provided as a courtesy to the reader. We do not work for any of these organizations. When comparing prices, remember to add in shipping and handling charges, taxes, and other fees. Prices and availability of specific items subject to change (if you notice that a price has changed or an item is no longer available from a listed source, please e-mail us).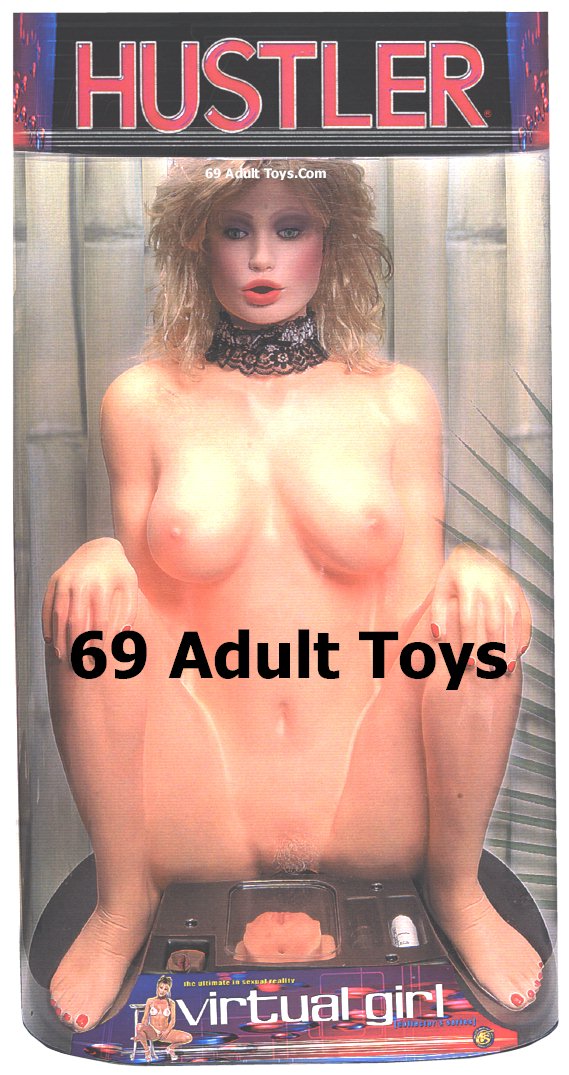 See also:: Virtual Girl Vibrating Vagina Upgrade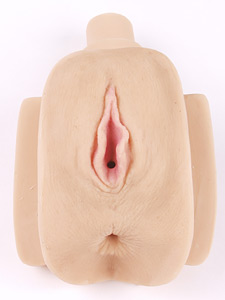 "This upgrade vagina is equipped with Virtual Touch texture that makes it look and feel life-like. Full vaginal and anal detail, with two love entries for snug satisfaction. The controller offers 5 exciting multi-speed programs of pulsation and vibration." —Discreet Online Shopping
List Price: U.S. $45.99
U.S. $36.95 Discreet Online Shopping†

some of the sources on the web:

premium sites

specialty sites

discount sites

general sites

Shopping through these links may result in a small percentage of your purchase helping keep this site on the web.
(Many of the sites have tricky rules, so we don't always get a percentage, but it can't hurt to try.).
This web page is about the Virtual Girl Living Foam Doll.

[ complete table of contents ] [ feature by feature comparison ]
[ home ] [ the inflatable doll experience ] [ price comparison ] [ links ]


other
privacy statement
Unlike most web sites, we inform our visitors about our privacy policy. AdultToyReviews.com does collect generic information from visitors for statistical analysis (nation, browser, operating system, screen resolution, and monitor size) — any web site you visit can and probably does collect this information (and more). All individual identification information is immediately discarded (except for subscription information if you join our mailing lists). Information is never sold to outside mailing lists or any other purposes.
feedback
Share information with other love doll enthusiasts. Give real user feedback on which dolls are good, which dolls are bad, and why. Let's replace advertising hype with solid information derived from actual experience.
All questions are optional. Pick and choose the ones you want to answer.
Virtual Girl Living Foam Doll
Copyright © 2002, 2003, 2004, 2005 contact00@AdultToyReviews.com
Last Updated: June 19, 2005
Created: October 2, 2001
Inflatable Doll Home Page
Author of Virtual Girl Living Foam Doll page: contact00@AdultToyReviews.com
If you write, please label your message as "Virtual Girl Living Foam Doll" to help separate it from SPAM (which gets tossed unread).

[ main toy home page ] [ toy info ] [ sorted by color ] [ sorted by material ] [ rabbits ] [ butterflies ] [ remote control ] [ strap-on harnesses ] [ dildoes ] [ double dildoes ] [ glass dildoes ] [ hands and fists ] [ vibrators ] [ massagers ] [ sleeves ] [ eggs and bullets ] [ clitoral stimulators ] [ waterproof vibrators ] [ anal probes and butt plugs ] [ beads ] [ breast pumps and nipple exciters ] [ balls ] [ erotic jewelry ] [ cock rings ] [ bondage ] [ lubricants, oils, and creams ] [ barriers ] [ hygiene ] [ erotic clothing ] [ transvestite items ] [ kits ] [ artificial vaginas ] [ male masturbators ] [ dolls ] [ penis pumps ] [ novelties ] [ DVDs ] [ videos ] [ books ] [ words ]
[ complete table of contents ] [ feature by feature comparison ]
[ home ] [ the inflatable doll experience ] [ price comparison ] [ links ]