Silicone Love Doll

A review of the Silicone Love Doll. A fantasy sex doll review on the unofficial, unauthorized love doll lover's web site.
complete table of contents listing all dolls
Category: love doll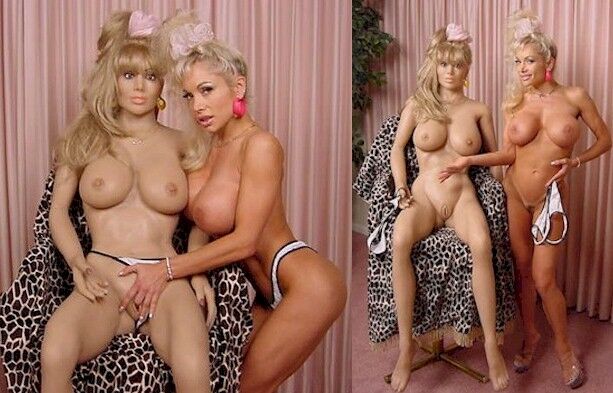 "The Doll is made of a soft, flesh like silicone rubber (INCREDIBLY REALISTIC!) With three super realistic entries, a skeleton articulated with stainless steel bones and specially designed stainless steel joints. She is quite durable but should be treated with the care she deserves. Made from the highest quality materials and designed from the ground up to "take it". Care should always be used especially when moving her around. The unique silicone blend will stretch up to 5 times its normal state, and all stress areas are reinforced by KEVLAR! That's the same stuff used to make bulletproof vests for the police and military! If a finger nail should fall off or in the unlikely event a silicone tear occurs, a repair kit is provided.
"Almost 100 pounds. ( Not your typical blow up doll. ) We decided to use a live model for the body. Vanna Lace (Miss Nude World) This would ensure that our proportions were very realistic and attractive. She is the real woman in the picture on this page. 5' 5", 38DD, 23, 36. She has a very life like mouth and lips. She even has removable soft silicone teeth and extendable and removable tongue. The vagina and anus are so life like … and she truly is one size fits all. Mouth 6 inches deep, vagina 10 inches and anus 7 inches deep.
"There is a "lift" that suspends her from a hidden connector in her head. Which makes movement, storage, and dressing a breeze. (Check out item #CNV4500)
"Internal cleaning should be performed after each use with warm water and mild soap. Included is a douche bulb for this procedure. A sponge bath with mild soap can be used to remove anything on your Silicon doll and keep her fresh. Also, occasional talcum or baby powder is nice to keep her skin fresh and lifelike." —Convergence Inc.
"Prices including shipping:"
"Continental USA $5,890"
"Canada, Hawaii, Alaska, Puerto Rico $5,990"
"Outside of US or Canada $6,290"
See their web site for very specific instructions regarding payment.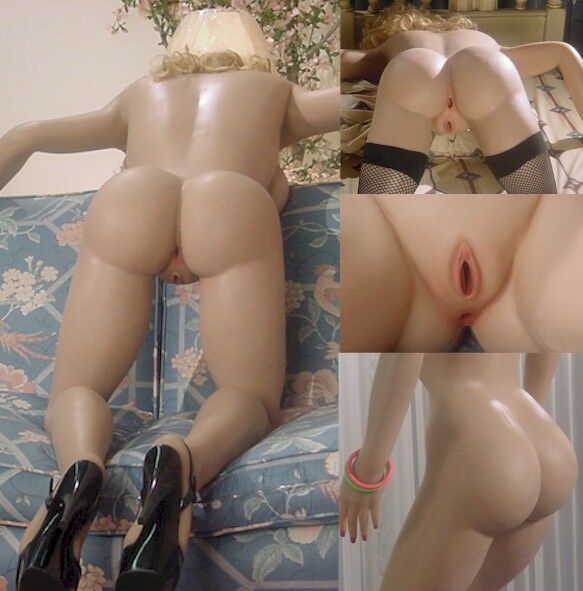 Vibrations: none
Size: 5' 5" tall
Clothing sizes:
dress:
bra:
corset:
panties:
shoe:
Batteries Required: none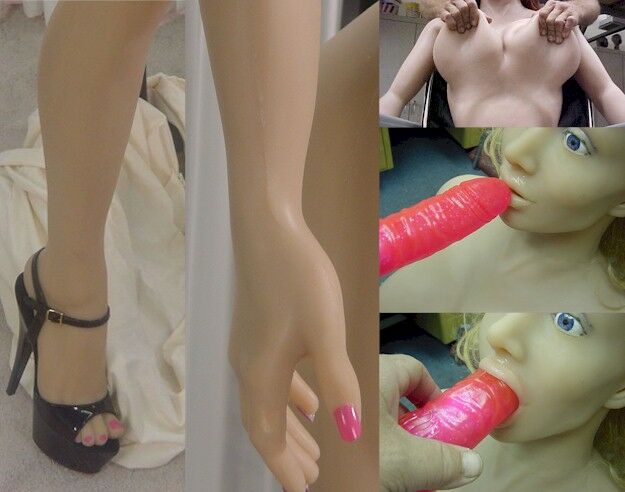 "Picture 4 (following) shows many different faces. All the bodies are the same, but when you place your order tell us which face design you would like, or let us know if you would like the Vanna Lace head." —Convergence Inc.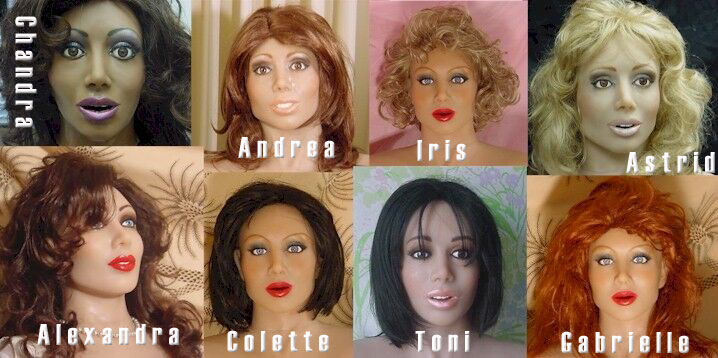 "I own this kind of silicone doll since 3 month, and I am very pleased with her. She is not 100 lbs. as mentioned above, her weight is only 60 lbs. A Realdoll is 100lbs. The lightweight is the big advantage of the doll against all other silicone dolls. She is delivered in a laydown box to prevent any damage when shipped. The Sex with her is great and she is very beautiful, durable and lifelike. I got her from superbabe.com after 10 weeks of placing my order. In summary this doll is expensive, but worth any penny you spend on it (Sorry about my bad English, I am from Germany)." —anonymous; e-mail; Feb 19, 2003
If you have used this doll, please share your impressions through the feedback form provided below.

Adult Toy Reviews.com is not a store…We're better!
We are an independent consumer review site.
We offer links to more than a dozen on-line web stores.
Your purchase from any site marked with an † will help keep our independent consumer review service available and on the web. Or you can contact us to make a donation. Thank you for your participation.
U.S. $5,890.00 SexToySex.com† See their a href="http://www.sextoysex.com/sex/start/sex.html?a=toyreviews" style="background:ddffdd">web site for very specific instructions regarding payment.
(see important notes below)
†Affiliate: Listings marked with a † are affiliates. If you decide to purchase from this source, please use the link provided. The use of this link will result in a token affiliate payment that will help keep this site on the web. We can't vouch for any affiliate's honesty and remain neutral about whom you should buy from.
NOTE: We can not vouch for the honesty of any of the listed sources. References to commercial sources and their prices provided as a courtesy to the reader. We do not work for any of these organizations. When comparing prices, remember to add in shipping and handling charges, taxes, and other fees. Prices and availability of specific items subject to change (if you notice that a price has changed or an item is no longer available from a listed source, please e-mail us).

some of the sources on the web:

premium sites

specialty sites

discount sites

general sites

Shopping through these links may result in a small percentage of your purchase helping keep this site on the web.
(Many of the sites have tricky rules, so we don't always get a percentage, but it can't hurt to try.).
This web page is about the Silicone Love Doll.

[ complete table of contents ] [ feature by feature comparison ]
[ home ] [ the inflatable doll experience ] [ price comparison ] [ links ]


other
privacy statement
Unlike most web sites, we inform our visitors about our privacy policy. AdultToyReviews.com does collect generic information from visitors for statistical analysis (nation, browser, operating system, screen resolution, and monitor size) — any web site you visit can and probably does collect this information (and more). All individual identification information is immediately discarded (except for subscription information if you join our mailing lists). Information is never sold to outside mailing lists or any other purposes.
feedback
Share information with other love doll enthusiasts. Give real user feedback on which dolls are good, which dolls are bad, and why. Let's replace advertising hype with solid information derived from actual experience.
All questions are optional. Pick and choose the ones you want to answer.
Silicone Love Doll
Some text and pictures copyright © Convergence Inc. Used by permission.
Copyright © 2003 contact00@AdultToyReviews.com
Last Updated: February 19, 2003
Created: January 14, 2003
Inflatable Doll Home Page
Author of Silicone Love Doll page: contact00@AdultToyReviews.com
If you write, please label your message as "Smart Ass Love Doll" to help separate it from SPAM (which gets tossed unread).

[ main toy home page ] [ toy info ] [ sorted by color ] [ sorted by material ] [ rabbits ] [ butterflies ] [ remote control ] [ strap-on harnesses ] [ dildoes ] [ double dildoes ] [ glass dildoes ] [ hands and fists ] [ vibrators ] [ massagers ] [ sleeves ] [ eggs and bullets ] [ clitoral stimulators ] [ waterproof vibrators ] [ anal probes and butt plugs ] [ beads ] [ breast pumps and nipple exciters ] [ balls ] [ erotic jewelry ] [ cock rings ] [ bondage ] [ lubricants, oils, and creams ] [ barriers ] [ hygiene ] [ erotic clothing ] [ transvestite items ] [ kits ] [ artificial vaginas ] [ male masturbators ] [ dolls ] [ penis pumps ] [ novelties ] [ DVDs ] [ videos ] [ books ] [ words ]
[ complete table of contents ] [ feature by feature comparison ]
[ home ] [ the inflatable doll experience ] [ price comparison ] [ links ]