Greek Girl Love Doll

A review of the Greek Girl Love Doll. A fantasy sex doll review on the unofficial, unauthorized love doll lover's web site.
complete table of contents listing all dolls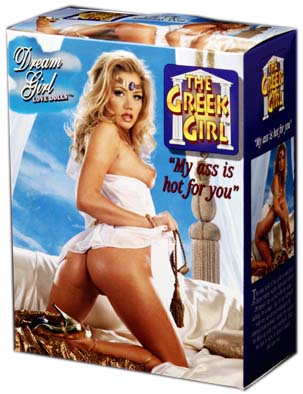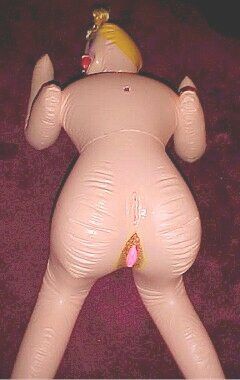 Category: inflatable female love doll
"Part of the Doc Johnson Dream Girls series. The Dream Girls series includes the Greek Girl Love Doll, Montana Love Doll, Rich Bitch Love Doll, and Slave Girl Doll.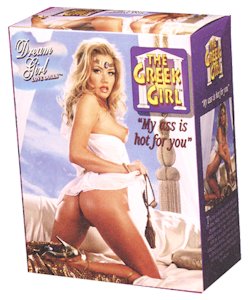 "Love doll that is on her knees for you. Head is tilted sideways. Separate pouch type vaginal and anal passages. Warning: This doll sprung a leak and lost air on the first inflation. Mouth is formed from a hard rubber that can only accommodate a penis that is less than 1.25 inches wide." —SexToySex.com
"The true food of the gods is anal lust! On those balmy nights high atop Mount Olympus I lay in bed with my anus aching for a man. I lay on my stomach with my ass arched wishing to be entered from behind. I desire my rear to be filled up with your manhood." —Discreet Online Shopping
"MY ASS IS HOT FOR YOU!
"The true food of the gods is anal lust! On those balmy nights high atop Mount Olympus I lay in bed with my anus aching for a man. I lay on my stomach with my ass arched wishing to be entered from behind. I desire my rear to be filled up with your manhood. Take me fast or slow, it doesn't matter just take me!
"On All 4's Love Doll." —69 Adult Toys
Vibrations: multi-speed egg
Clothing sizes:
dress:
bra:
corset:
panties:
shoe:
Batteries Required: Two (2) AA cells

Manufacturer: Doc Johnson product #DJ1723-00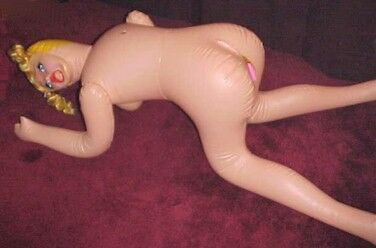 "I purchased this doll and was fairly impressed by the tightness of her vagina although the anal opening is far from real it feels just like the vagina. I only got to use her twice. The second time I was just about to finish she let me down and split open at the seam on her stomach.*" —anonymous; e-mail; February 28, 2002
"I was happy to see Greek Girl… finally a doll in a ***-able body position. This plastic baby Made In Singapore sports the familiar Bavarian school girl face with open mouth. The back of her head is painted yellow — no hair. The one I got had the face sideaways, which (given how it looks) might be actually a plus. The girl's hands are more or less plastic tubes attached to the torso (like the famous inflatable sheep's legs). Her legs are better formed and bent 'yee-haw'. Her body and pussy size suggest that she might have been created for young Asian schoolboys. My dick got bloody scratches from the edge of her small vagina and just what I was about to finish the first encounter with a merry big bang anyway, she preceded me, and burst open at her stomach seam.*" —ExplorerGuy; E-Mail; April 13, 2001
* This is why you shouldn't lay on top of the inexpensive dolls — they can't hold the weight. Don't put your body weight on cheap dolls, only the more expensive thick vinyl plastic, latex, or solid dolls can support the weight of an adult.
If you have used this doll, please share your impressions through the feedback form provided below.
important notice

A lawyer from a company called censored is threatening to have this website shut down simply because this web site posted an e-mail complaint from one of their customers. We included censored's reply and the whole point of a consumer review website is to allow people to share their good and bad experiences.

We need legal help to avoid being shut down. For more information (including complete copies of everything censored's lawyer has said) see the censored page.

Adult Toy Reviews.com is not a store…We're better!
We are an independent consumer review site.
We offer links to more than a dozen on-line web stores.
Your purchase from any site marked with an † will help keep our independent consumer review service available and on the web. Or you can contact us to make a donation. Thank you for your participation.
List Price: U.S. $49.50
U.S. $36.00 SexToySex.com†
U.S. $40.95 69 Adult Toys†
U.S. $40.95 Discreet Online Shopping†
(see important notes below)
†Affiliate: Listings marked with a † are affiliates. If you decide to purchase from this source, please use the link provided. The use of this link will result in a token affiliate payment that will help keep this site on the web. We can't vouch for any affiliate's honesty and remain neutral about whom you should buy from.
NOTE: We can not vouch for the honesty of any of the listed sources. References to commercial sources and their prices provided as a courtesy to the reader. We do not work for any of these organizations. When comparing prices, remember to add in shipping and handling charges, taxes, and other fees. Prices and availability of specific items subject to change (if you notice that a price has changed or an item is no longer available from a listed source, please e-mail us).

dolls themed to emphasize asses
some of the sources on the web:

premium sites

specialty sites

discount sites

general sites

Shopping through these links may result in a small percentage of your purchase helping keep this site on the web.
(Many of the sites have tricky rules, so we don't always get a percentage, but it can't hurt to try.).
This web page is about the Greek Dream Girl Love Doll.

[ complete table of contents ] [ feature by feature comparison ]
[ home ] [ the inflatable doll experience ] [ price comparison ] [ links ]


other
privacy statement
Unlike most web sites, we inform our visitors about our privacy policy. AdultToyReviews.com does collect generic information from visitors for statistical analysis (nation, browser, operating system, screen resolution, and monitor size) — any web site you visit can and probably does collect this information (and more). All individual identification information is immediately discarded (except for subscription information if you join our mailing lists). Information is never sold to outside mailing lists or any other purposes.
feedback
Share information with other love doll enthusiasts. Give real user feedback on which dolls are good, which dolls are bad, and why. Let's replace advertising hype with solid information derived from actual experience.
All questions are optional. Pick and choose the ones you want to answer.
Greek Girl Love Doll
Copyright © 2001, 2002, 2003, 2005 contact00@AdultToyReviews.com
Last Updated: June 12, 2005
Created: March 10, 2001
Inflatable Doll Home Page
Author of Greek Girl Love Doll page: contact00@AdultToyReviews.com
If you write, please label your message as "Greek Girl Doll" to help separate it from SPAM (which gets tossed unread).

[ main toy home page ] [ toy info ] [ sorted by color ] [ sorted by material ] [ rabbits ] [ butterflies ] [ remote control ] [ strap-on harnesses ] [ dildoes ] [ double dildoes ] [ glass dildoes ] [ hands and fists ] [ vibrators ] [ massagers ] [ sleeves ] [ eggs and bullets ] [ clitoral stimulators ] [ waterproof vibrators ] [ anal probes and butt plugs ] [ beads ] [ breast pumps and nipple exciters ] [ balls ] [ erotic jewelry ] [ cock rings ] [ bondage ] [ lubricants, oils, and creams ] [ barriers ] [ hygiene ] [ erotic clothing ] [ transvestite items ] [ kits ] [ artificial vaginas ] [ male masturbators ] [ dolls ] [ penis pumps ] [ novelties ] [ DVDs ] [ videos ] [ books ] [ words ]
[ complete table of contents ] [ feature by feature comparison ]
[ home ] [ the inflatable doll experience ] [ price comparison ] [ links ]