Country Girl Fantasy

In the country girl fantasy, you imagine that your love doll is a country girl, kind of like the farmer's daughter you always hear about in jokes. She can be a wild uninhibited country slut or a timid country virgin.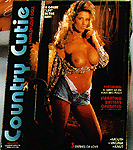 The Country Cutie Love Doll is a doll specifically targeted at the country girl fantasy. But the whole sum of the fantasy is in the text and pictures on the box and an over-priced bottle of apple pie flavored lubricant. The Country Cutie Love Doll is otherwise an over-priced version of the basic cheap love doll.
You can use any doll, including much better dolls, to recreate the country girl fantasy on your own.
Flavored lubricants are available from a variety of sources. In addition to the apple pie (or apple) flavored lubricant of the Country Cutie Love Doll, you can also choose other country themed flavored lubricants, such as cherry (for "cherry pie" or "sweet cherry" pussy, especially for the virgin country girl fantasy) or strawberry (for "queen of the strawberry festival" fantasies).
The use of flavored lubricant implies that you are going to perform cunnilingus on your doll. Plain ordinary holes of the less expensive love dolls are clearly going to be unsatisfying. You will want to pick a doll with a latex or pink jelly molded pussy for maximum pussy eating enjoyment. The Chasey Lane Love Doll, Perfect 10 Deluxe Fantasy Love Doll, and Smart Ass Love-Doll all have molded pussies.
Clothing can play a key part in creating the fantasy. Many doll users clothe their dolls to cover up the plastic nature and give their dolls a more feminine or realistic look. It is a small step to using clothing as a costume to help set the mood for a fantasy.
The obvious costuming for the country girl fantasy are blue jean hotpants, blue jean cutoffs, blue jean skirt, or country dress. The blue jean costumes are well paired with some kind of country blouse, with the top buttons left unfastened to show a lot of cleavage and the bottom of the blouse tied in a knot to reveal plenty of belly.
There are a wide variety of matching pantie and bra sets that have a country girl theme, especially flowered pantie and bra sets and the classic blue jean panties or g-string and bra.
Choosing a air freshner or incense with a country feel (such as pine or cherry wood) helps establish the mood.
Playing country music on your stereo or boombox can also help set the mood.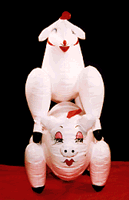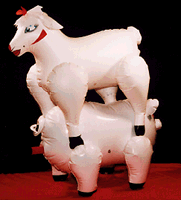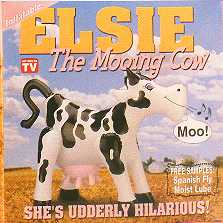 Adding a few inflatable animals (especially inflatable pigs, sheep, and cows) can help set the mood.
Picking and choosing from larger size children's toys can also help set the country mood.
A painted or drawn backdrop of a farmland, a barn, or woods can also add to the mood. Large paper backdrops with appropriate images are available novelty, gift, and stationary stores.
Getting a bale of hay can also add to the fantasy. Take a bit of hay and strew it across the floor, keeping the bulk of the bale in the bale shape as a background prop. Or even fuck your doll while sitting on the bale of hay.

[ complete table of contents ] [ feature by feature comparison ]
[ home ] [ the inflatable doll experience ] [ price comparison ] [ links ]


privacy statement
Unlike most web sites, we inform our visitors about our privacy policy. AdultToyReviews.com does collect generic information from visitors for statistical analysis (nation, browser, operating system, screen resolution, and monitor size) — any web site you visit can and probably does collect this information (and more). All individual identification information is immediately discarded (except for subscription information if you join our mailing lists). Information is never sold to outside mailing lists or any other purposes.
other
Copyright © 1998, 2001 contact00@AdultToyReviews.com
Last Updated: July 27, 2001
Created: May 31, 1998
Inflatable Doll Home Page
Author of Country Girl Love Doll Fantasy page: contact00@AdultToyReviews.com
If you write, please label your message as "Doll" to help separate it from SPAM (which gets tossed unread).

[ main toy home page ] [ toy info ] [ sorted by color ] [ sorted by material ] [ rabbits ] [ butterflies ] [ remote control ] [ strap-on harnesses ] [ dildoes ] [ double dildoes ] [ glass dildoes ] [ hands and fists ] [ vibrators ] [ massagers ] [ sleeves ] [ eggs and bullets ] [ clitoral stimulators ] [ waterproof vibrators ] [ anal probes and butt plugs ] [ beads ] [ breast pumps and nipple exciters ] [ balls ] [ erotic jewelry ] [ cock rings ] [ bondage ] [ lubricants, oils, and creams ] [ barriers ] [ hygiene ] [ erotic clothing ] [ transvestite items ] [ kits ] [ artificial vaginas ] [ male masturbators ] [ dolls ] [ penis pumps ] [ novelties ] [ DVDs ] [ videos ] [ books ] [ words ]
[ complete table of contents ] [ feature by feature comparison ]
[ home ] [ the inflatable doll experience ] [ price comparison ] [ links ]