Kobe Tai Ultra Realistic Pussy and Ass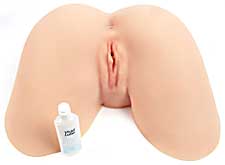 porn star replica: Life size realistic replica of Kobe Tai's vagina.
"The most anatomically correct pussy ever made! You know you love to watch her. Kobe Tai has one of the best asses and one of the prettiest pussies. Taken from an actual mold, she wants everyone to experience her in bed. She wants you to fuck her." —Discreet Online Shopping
"Made of ultra realistic material. Full size and anatomically correct molded directly from Kobe Tai's vagina and anus. This is the first molded vagina where they actually tried to realistically mold the internal structure of the vagina. #DJ5525-06" —Convergence Inc.
Batteries Required: none
Manufacturer: Doc Johnson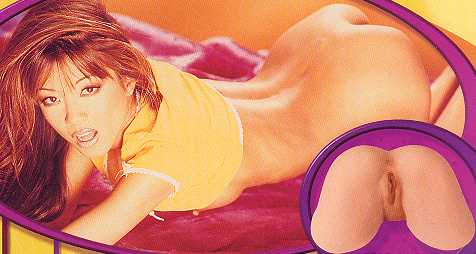 "This is the ABSOLUTE BEST artificial vagina I have ever purchased. And I have bought my share, Chasey Lain, Jenna Jameson etc. This is hands down the best. If you close youe eyes you may forget it is not real. The best thing I have found is that you can bring this toy into the shower and it will stick to the shower wall by pressing on the buttocks, so you can fuck "her" while standing up. :) An absolute MUST BUY for pussy lovers everywhere!!" —anonymous; e-mail; April 19, 2002
"I received my Kobe URPA from Discreet Online Shopping a couple weeks ago. My experience them was all in all good, although their website incorrectly indicated the item was in stock when in fact it was not, resulting in a slight delay in delivery time. For the cost savings, it was worth the wait.
"I have not used any other artificial devices before. I actually bought the pussy as a sort of "unsafe sex prevention." I have been with so many women, I can't even remember all their faces, much less their names…I wasn't interested in them; I was just horny. Clearly, this is neither a satisfying nor a safe way to live. So, I was hoping for something that would give me at least some of the feeling of sex (better than my hand) and wouldn't give me a disease, wouldn't get pregnant, and wouldn't leave me feeling like a jerk for using her :-)
"Happily, it turns out that that the "pussy" does a fantastic job of simulating the sensations of sex. Warmed up and with a healthy amount of KY, the penile sensations feel amazingly like actually having sex. The internal feel is quite realistic. In this respect, I am pleasantly surprised, and I recommend the pussy to anyone else looking for one for this reason.
"On the negative side, the easiest and safest-for-the-silicone position is a little awkward. It is kind of like doggie-style while laying flat — imagine if a lithe Asian girl was lying on her stomach under you, and had her pussy tilted up to you a very small amount. Also, initially, the tightness of the opening is very restrictive, and I had some trouble getting into the pussy even with a stiff erection and lots of lubricant. In time, though, the pussy has stretched a little bit, and now it is no difficulty at all. "Fucking" the pussy in this position is satisfying, and if you let your imagination go, you could easily be convinced you were in a real pussy. The ass is tight, though not textured, and my cock comes out the rinse-hole in the top of the device a little ways — having your cock hit the cold air kinda blows the illusion of being inside a girl's ass.
"I have found that I can also have a nice lenghty, relaxing fuck by laying on my back while inserted into the pussy (as though she was sitting on me, facing away from me) and just kinda rolling the device back and forth on the mounds of the ass. It takes very little energy to do this, and feels excellent. It's not a realistic motion, as a girl's ass doesn't actually roll this way, there being a torso, head, and arms weighing it all down, but with this device, it's fantastic. I do it this way when I'm in more of a masturbatory mood instead of a fucking mood.
"The pussy and ass wash clear easily, without any problems.
"I should also note that the pussy only really feels realistic when entered in the "behind" orientation (asshole above your cock). If you rotate the pussy 180 to the missionary position (asshole by your balls) they pussy doesn't quite feel right — the internal curvature of the sleeve will bend your cock downwards. This effect is even more pronounced when in the ass.
"As was reported by others, cumming in the pussy can be painful, but I've found this is true only if I don't get myself buried all the way in before I cum — the tightness of the opening acts something like a cockring and holds the orgasm back somewhat (I've been with some women who were tight enough at the entrance to produce this same problem). However, if I sink all the way in, my urethra has enough clearance to let all the ejaculate past freely. Your mileage may vary.
"Finally, as sold, the pussy really can't be readily fucked the way it seems like it oughta be — straight on kneeling doggie style. The silicone will bend and give too much for it, and will likely tear if this is attempted. I would really like to see some kind of rack that allowed the pussy to be mounted safely without tearing to allow a proper fuck-from-behind. Since I doubt any such product will be available soon, I'm going to experiment with making my own, using the myriad disc-shaped holes in the flat part of the unit to secure it to the rack — that way, it could be easily removed for washing.
"If you're looking for a full-body simulation, obviously, this won't do it. If you're most concerned with it feeling right for your cock, though, this fits the bill, and I highly recommend it. Enjoy :-)" —David L; e-mail; March 15, 2002
"My Kobe Tai Ultra Realistic Pussy and Ass arrived yesterday. Here a few initial day one impressions.
"Looks — It does indeed look quite like a real ass. Its lips are small but nice, and it's believable they were molded from Kobe.
"The overall size is a little smaller than I would expect for an adult female, being closer to that of a young teenager. This is a plus in my book, so no complaints.
"External texture while not truely like real it's close enough. Warming it up under an electric blanket helped to enhance the real feel. They have simulated internal boney structures quit well, and they do add to the overall illusion.
"The odor was strong upon removal from the box. This diminished some and hopefully will mostly disappear.
"Packaging was in a box with styrofoam inserts. I spent a few minutes picking off little pieces of styrofoam which clung to Kobe due to static electricity.
"Internal construction has both holes leading into one channel which exits toward the opposite side. I would pay a little extra to have the two completely separate. Upon inserting a finger into the pussy hole I was impressed with the feeling of being grabbed and squeezed. The Anal entry had the same feeling except for being tighter. The boney structures can be felt if you push on the sides of the channels. These stuctures add firmness lacking in most cyberskin vaginas.
"There is a slight taste which, like the smell became less as it aired out. In the dark, or with your eyes closed it would be easy to convince yourself you were eating a real pussy. The lack of reaction does diminish the overall effect.
"The provided lube dries to quickly so was no help. Using a good lube made insertion fairly easy. A full erection will be required. The sensation of being grabbed and squeesed was outstanding. I was really suprised at how Kobe really did stretch to fit as advertised. It really did feel like a real pussy. In fact it felt better than many real pussies I've had.
"The Anal entry was tighter than the pussy and had that same grabbing action. It felt very much like a real asshole.
"Kobe is quite heavy as these type toys go. Holding was not needed as it stayed put. There is enough heft that by laying on your back and holding it up by the butt cheeks a close simulation of a bouncing Kobe on top pumping you could be achieved.
"Overall I rate Kobe as the best toy vagina I've tryed. If it were fleshed out to include partial thighs, and belly if would certainly rival the Realdoll torso selling for $1500. Kobe is rather expensive, but if it holds up over time, I consider it a good value." —Bob; e-mail January 20, 2002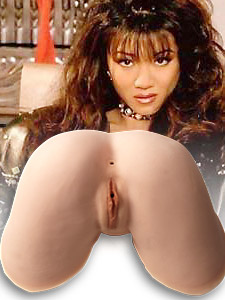 "(Some folks find these fact to be important for storage, hiding, etc:)
"Approximate Dimensions:
"6.25 x 13.50 x 16.75 inch Box for the Kobe Tai foam-holder.
"5.00 x 11.00 x 14.50 inch butt-cheeks and hip structures.

"Each butt-cheek is about 4 to 5 inches across…
"And from the side-view, they are over 5 inches tall or thick. (Her NICE and HEALTHY "Hands Full" butt-cheeks, is one of the main reasons, WHY, I bought her. :-)

"The Kobe's nice "tightness" will probably get you to cum, VERY quickly… But cumming, within her "tightness", could be quite a bit of PAIN!!!

"Use her as a "Finger Toy", ONLY and she will probably last, a long time. Use your larger "member" on her and there will probably be PROBLEMs… And I have heard that MANY of these almost "full scale" pieces have broken.

"My "member" is that "toilet-paper roll" size of about 1.5" or 4cm… My index-finger measues at .5" to about 1" or 1.6cm to about 2.5cm… (These are diameter measurements:-) I would say that anything LARGER then my index-finger, is risky… And using too much FORCE to simply "get in" may break her, much sooner.

"Also, I suspect that the excessive weight of the silicone, in her butt-cheeks, helped to BREAK her center-structure, much quicker.

"Using a much lighter, warmer and softer foam-filling in her cheeks, would have helped a great deal for the "reality" of REAL butts. :-) Also, this should help to SAVE the internal-structure from breakage. And with the huge SAVINGs in silicone, they might have FINISHED the belly and leg areas of their Kobe.

"For the current Kobe, adding a firm plastic backing, might help, a LOT!!! And if they doubled or perhaps tripled the vaginal tunnel, the Kobe might be more FUN and simply, survive much, MUCH LONGER.

"(P.S.… I do not care… But there no real area for vibrators.)

"She is so SOLID and heavy, with silicone, that there is NO WAY, she is going to jiggle or wiggle, even a little…

"(Remember me, talking about silicone "SpeedBumps"?)

"Well,,, there they ARE, in these heavy-silicone P&A pieces. It is like, she is ALL muscle, with NO soft upper-tissue or nice, ultra SOFT fat-tissues.

"I am "nada64105" and founder of Love Doll Creations: http://clubs.yahoo.com/clubs/lovedollcreations (And to me, Dolls and Toys are very closely related products, today… This Kobe was my first and probably my LAST, large-scale silicone piece… Those RealDoll Owners must be a very brave and very patient group. :-)

"Obtw, follow our links or the Doll Forum links for more information: http://www.dollforum.com/" —nada64105; e-mail January 31, 2002
"Kobe was the first toy of this nature I had ever purchased. Removing her delicious cheecks from the packaging, I was impressed by the look, feel, and heft — yes, this toy is heavy. Impressions after using the toy are mixed. Both holes are very snug, which feels great, BUT it also means the material is subject to excessive stretching. This will eventually lead to small tears at the openings. Continued use will make the tears larger and larger until the toy is useless. If the holes could be made a bit larger, it would go a long way to improve durability (especially since this baby retails for $250!). Another downside is the angle of penetration required to fully enjoy Kobe. Laying it flat on the bed, using the vagina is awkward, and using the anus is downright bad. If the whole angle could have been tilted back about 30 - 40 degrees, it would be much closer to the suggested doggie-style purpose. Overall, I don't believe it was worth the premium price compared to the lower priced missionary position pussy & anus toys I have tried since." —Humpty Dumpty; e-mail; February 28, 2002
If you have used this toy, please share your impressions through the feedback form provided below or e-mail direct to contact00@AdultToyReviews.com.

Adult Toy Reviews.com is not a store…We're better!
We are an independent consumer review site.
We offer links to more than a dozen on-line web stores.
Your purchase from any site marked with an † will help keep our independent consumer review service available and on the web. Or you can contact us to make a donation. Thank you for your participation.
List Price: U.S. $265.95
U.S. $195.00 SexToySex.com†
U.S. $213.95 Discreet Online Shopping†
(see important notes below)
Adult Toy Reviews helps you compare sex toys from a wide variety of sources.
†Affiliate: Listings marked with a † are affiliates. If you decide to purchase from this source, please use the link provided. The use of this link will result in a token affiliate payment that will help keep this site on the web. We can't vouch for any affiliate's honesty and remain neutral about whom you should buy from.
NOTE: We can not vouch for the honesty of any of the listed sources. References to commercial sources and their prices provided as a courtesy to the reader. We do not work for any of these organizations. When comparing prices, remember to add in shipping and handling charges, taxes, and other fees. Prices and availability of specific items subject to change (if you notice that a price has changed or an item is no longer available from a listed source, please e-mail us).
some of the sources on the web:

premium sites

specialty sites

discount sites

general sites

Shopping through these links may result in a small percentage of your purchase helping keep this site on the web.
(Many of the sites have tricky rules, so we don't always get a percentage, but it can't hurt to try.).

[ home ] [ toy info ] [ sorted by color ] [ sorted by material ] [ rabbits ] [ butterflies ] [ remote control ] [ strap-on harnesses ] [ dildoes ] [ double dildoes ] [ glass dildoes ] [ hands and fists ] [ vibrators ] [ massagers ] [ sleeves ] [ eggs and bullets ] [ clitoral stimulators ] [ waterproof vibrators ] [ anal probes and butt plugs ] [ beads ] [ breast pumps and nipple exciters ] [ balls ] [ erotic jewelry ] [ cock rings ] [ bondage ] [ lubricants, oils, and creams ] [ barriers ] [ hygiene ] [ erotic clothing ] [ transvestite items ] [ kits ] [ artificial vaginas ] [ male masturbators ] [ dolls ] [ penis pumps ] [ novelties ] [ DVDs ] [ videos ] [ books ] [ words ]
privacy statement
Unlike most web sites, we inform our visitors about our privacy policy. AdultToyReviews.com does collect generic information from visitors for statistical analysis (nation, browser, operating system, screen resolution, and monitor size) — any web site you visit can and probably does collect this information (and more). All individual identification information is immediately discarded (except for subscription information if you join our mailing lists). Information is never sold to outside mailing lists or any other purposes.
feedback
Share your experiences with other women. Give real user feedback on which toys are good, which toys are bad, and why. Let's replace advertising hype with solid information derived from actual experience.
All questions are optional. Pick and choose the ones you want to answer. Or use ordinary e-mail, at contact00@AdultToyReviews.com.
This web page is about the Kobe Tai Ultra Realistic Pussy and Ass.


Some text and pictures copyright © Convergence Inc. Used by permission.
Copyright © 2001, 2002, 2003, 2005 AdultToyReviews.com
Last Updated: June 21, 2005
[ home ] [ toy info ] [ sorted by color ] [ sorted by material ] [ rabbits ] [ butterflies ] [ remote control ] [ strap-on harnesses ] [ dildoes ] [ double dildoes ] [ glass dildoes ] [ hands and fists ] [ vibrators ] [ massagers ] [ sleeves ] [ eggs and bullets ] [ clitoral stimulators ] [ waterproof vibrators ] [ anal probes and butt plugs ] [ beads ] [ breast pumps and nipple exciters ] [ balls ] [ erotic jewelry ] [ cock rings ] [ bondage ] [ lubricants, oils, and creams ] [ barriers ] [ hygiene ] [ erotic clothing ] [ transvestite items ] [ kits ] [ artificial vaginas ] [ male masturbators ] [ dolls ] [ penis pumps ] [ novelties ] [ DVDs ] [ videos ] [ books ] [ words ]