Ultra Harness 2000 — Female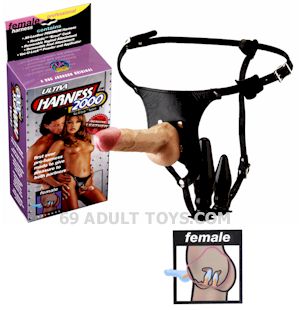 Category: strap-on harness
"First Ever Pro-Harness Made To Give Pleasure To Both Partners!
"The only premium strap-on sex system. Non-slip construction assures perfect movement with your body. Fully adjustable straps for the most perfect fit."—69 Adult Toys
Contains:

All-Leather PREMIUM Harness
Realistic "Erect" Cock
Removable Vagina Attachment
Removable Anal Attachment
Vac-U-Lock Powder and Applicator
"Three way fully adjustable all leather premium harness for a perfect fit. Comes with a Realistic 6 x 1.75 inch Cock attachment. Also comes with adjustable and removable vaginal and anal plugs This device is compatible with all Vac-U-Lock attachments. Harness expands up to 44 inches in the waist. For an Ultra Harness 2000 for men, check out item #DJ1051-01." —SexToySex.com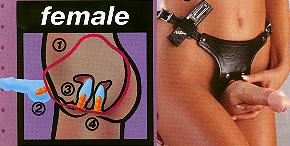 Special Features: Vac-U-Lock
Vibrations: none
Size: dildo (average): 6" long x 1.75" wide x 5 inches around —SexToySex.com
Shape: realistic dildo


Color: black harness and plugs; Caucasian skin tones dildo


Material: leather harness with rubber dildo and plugs
Batteries Required: none
Manufacturer: Doc Johnson product #DJ1051-02
See also Ultra Harness 2000 — Male.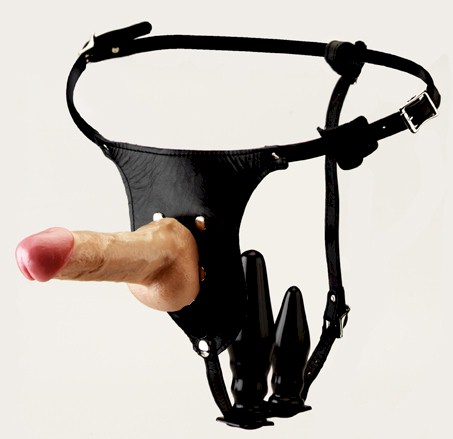 See listing of dildoes.
See also anal lubricants.

"Unbelievable! Incredibly realistic cock. Once I got used to the weight, it felt like it was a part of me. To watch him suck on the head of the cock was such a turn on. While I gave him a full body massage, with hot oil, my "cock" kept rubbing against his body, and the two plugs inside me were driving me wild. After his body was well oiled, I buried my face in his ass, licking and sucking, until he started to open up. I inserted first one finger, then two. Then the triple ripple plug. I teased him with this plug, until I could slide it in and out easily. He said he was ready. He turned on his back, and I place the head of my cock against his ass. I almost came when I saw the head slide in. His legs were around my waist, as I stood next to the bed. The harness strap stroked the two plugs inside me with every movement I made. I saw the cock buried up his ass, to the balls. It was wild!!! His legs went straight up my body and I held onto him as he thrashed and moaned and stroked his own cock. When he came, it was so intense, I came with him. We will be using this new toy every time now. It is well worth the price, as it is extremely well made, and it certainly does what it claims to do. Just use plenty of lube and take it slow. The cock itself looks and feels so realistic, it almost will become part of you. Wow!" —Rusty quoted by SexToySex.com Apr 21, 2004
"Did it work as expected? Better than expected How did you use it? Hetero couple, she wore it, both parties get stimulated Was it worth the price paid? A little pricey, but cheaper than most other online merchants For the exploring couple looking to spice it up a little, certainly not for the beginner couple. She'll get turned on turning the tables on her male counter part, she gets stimulated simultaneously with the vaginal and anal plugs (very novel, flevible options depending on her mood). Requires a bit of work for her to put it on, but you'll both find it's worth it! Optional vibrating egg does not attach easily." —anonymous quoted by SexToySex.com Feb 17, 2004
"I had used vibrators on him before, which he loved, but he never expected this. This is absolutely the best toy I've ever used. I get so horny from seeing him lick and suck me for a change it made me come on the spot the first time. He loves it too and simply begs now to use it on his ass. What an invention." —Renee quoted by SexToySex.com Feb 8, 2004
"This is the sexiest strapon I have seen on my wife. This is as close as she can get to being a shemale. The lifelike dildo feels just like a real @&$%, we both enjoy the penetration." —texassbitail quoted by SexToySex.com Feb 6, 2004
"Perfect for the Hetero couple wanting to explore a little more. Both partners get quite stimulated simultaneously. Nice options for her depending on her mood. With the vibrating egg add on she will be stimulated in ways she never thought possible. The versatility is exceptional. Give one of these to your female partner for some added spice! Two thumbs up!" —none quoted by SexToySex.com Feb 6, 2004
"This was a great adventure for us. I used it both orally and anally on my boyfriend and I loved it. Really turned him on too. He had some problems with the oral part at first but seeing how much I liked it he did his best and loves it now. The feeling is very deep within. Get him on his knees girls, it's fantastic. One great toy, worth it's money. Jen" —Jennifer quoted by SexToySex.com Jan 19, 2004
"Hi, my husband and I selected this together. Basically we bought it because we wanted to experience reversed roleplay while doing anal. We loved it. Use both plugs is my advice to the ladies, is a big turn-on to feel them while doing him. I made him suck me before he got on his knees. Was strange to him at first but seeing how much I liked it he kept going and made me come. This is an awesome toy. Is there a vibrating one available?" —Marianne quoted by SexToySex.com Jan 18, 2004
"I have tried one other strap-on before so I am not an expert but this is something really special. everytime you trust him, you trust yourself, I could not stop coming. My husband is now completely addicted to this. I made him suck me too… wow, that was probably the horniest thing I have ever experienced. He sat on the bed the first time and I stood. I grabbed his head and made him lick and suck, believe me ladies, I came on the spot. Great buy!!!" —evelyn quoted by SexToySex.com Jan 18, 2004
"It works perfectly. First i used it togeteher with my girlfriend, we switched places several times. You need to get used to the anal part. I showed it to my boyfriend some days ago, and he was surprised. He agreed to try it, and now he completely changed his mind. With carful use, he actually enjoys it. Hs penis gets harder and he gets more excited. (excuse my english, i'm dutch)" —Mandy quoted by SexToySex.com Dec 16, 2003
"I bought this for my girlfriend. She uses it on me almost every night I love anal sex now before I thought it would hurt but when you put a few drops of lube on this it penetrates me all the way to the balls and I can't get enough. I shoot all the way across the room when she does me doggy with this. You'll love it" —Mr. Satisfied quoted by SexToySex.com Nov 21, 2003
"My wife used it on me and wore me out. She and I have great sex with it. She says it turns her on to hear me scream and wimper when she uses it on me. We also have swing and that allows deeper pentetration with the strap-on. She wants to use it on me every night." —david quoted by SexToySex.com Nov 10, 2003
"It's very special for a woman to put it on and make love with your man in his behind. Its make you horny. It works perfectly. One thing, need to use the lube after putting it on, it's very slippery, and it's difficult to fasten it. But a perfect strapon and it makes sex very nice;-)" —anonymous quoted by SexToySex.com Oct 4, 2003
If you have used this toy, please share your impressions through the feedback form provided below or e-mail direct to contact00@AdultToyReviews.com.

Adult Toy Reviews.com is not a store…We're better!
We are an independent consumer review site.
We offer links to more than a dozen on-line web stores.
Your purchase from any site marked with an † will help keep our independent consumer review service available and on the web. Or you can contact us to make a donation. Thank you for your participation.
U.S. $70.00 SexToySex.com†
U.S. $79.95 69 Adult Toys†
(see important notes below)
†Affiliate: Listings marked with a † are affiliates. If you decide to purchase from this source, please use the link provided. The use of this link will result in a token affiliate payment that will help keep this site on the web. We can't vouch for any affiliate's honesty and remain neutral about whom you should buy from.
NOTE: We can not vouch for the honesty of any of the listed sources. References to commercial sources and their prices provided as a courtesy to the reader. We do not work for any of these organizations. When comparing prices, remember to add in shipping and handling charges, taxes, and other fees. Prices and availability of specific items subject to change (if you notice that a price has changed or an item is no longer available from a listed source, please e-mail us).
some of the sources on the web:

premium sites

specialty sites

discount sites

general sites

transvestite sites

Shopping through these links may result in a small percentage of your purchase helping keep this site on the web.
(Many of the sites have tricky rules, so we don't always get a percentage, but it can't hurt to try.).

[ home ] [ toy info ] [ sorted by color ] [ sorted by material ] [ rabbits ] [ butterflies ] [ remote control ] [ strap-on harnesses ] [ dildoes ] [ double dildoes ] [ glass dildoes ] [ hands and fists ] [ vibrators ] [ massagers ] [ sleeves ] [ eggs and bullets ] [ clitoral stimulators ] [ waterproof vibrators ] [ anal probes and butt plugs ] [ beads ] [ breast pumps and nipple exciters ] [ balls ] [ erotic jewelry ] [ cock rings ] [ bondage ] [ lubricants, oils, and creams ] [ barriers ] [ hygiene ] [ erotic clothing ] [ transvestite items ] [ kits ] [ artificial vaginas ] [ male masturbators ] [ dolls ] [ penis pumps ] [ novelties ] [ DVDs ] [ videos ] [ books ] [ words ]
privacy statement
Unlike most web sites, we inform our visitors about our privacy policy. AdultToyReviews.com does collect generic information from visitors for statistical analysis (nation, browser, operating system, screen resolution, and monitor size) — any web site you visit can and probably does collect this information (and more). All individual identification information is immediately discarded (except for subscription information if you join our mailing lists). Information is never sold to outside mailing lists or any other purposes.
feedback
Share your experiences with other women. Give real user feedback on which toys are good, which toys are bad, and why. Let's replace advertising hype with solid information derived from actual experience.
All questions are optional. Pick and choose the ones you want to answer. Or use ordinary e-mail, at contact00@AdultToyReviews.com.
This web page is about the Female Ultra Harness 2000.

Copyright © 2003, 2004, 2005 AdultToyReviews.com
Last Updated: June 26, 2005
[ home ] [ toy info ] [ sorted by color ] [ sorted by material ] [ rabbits ] [ butterflies ] [ remote control ] [ strap-on harnesses ] [ dildoes ] [ double dildoes ] [ glass dildoes ] [ hands and fists ] [ vibrators ] [ massagers ] [ sleeves ] [ eggs and bullets ] [ clitoral stimulators ] [ waterproof vibrators ] [ anal probes and butt plugs ] [ beads ] [ breast pumps and nipple exciters ] [ balls ] [ erotic jewelry ] [ cock rings ] [ bondage ] [ lubricants, oils, and creams ] [ barriers ] [ hygiene ] [ erotic clothing ] [ transvestite items ] [ kits ] [ artificial vaginas ] [ male masturbators ] [ dolls ] [ penis pumps ] [ novelties ] [ DVDs ] [ videos ] [ books ] [ words ]