Juli Ashton Strap-On
Juli's Ultra harness Kit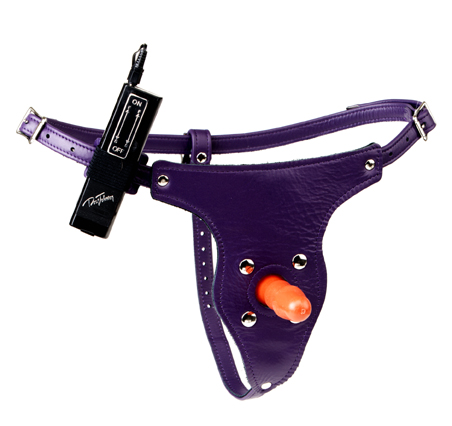 Category: strap-on harness
Porn star: This toy endorsed by porn star Julie Ashton.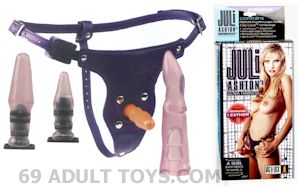 "Purple Genuine Leather Vac-U-Lock system has a non-slip construction to assure easy movement with your body. Also comes with 3 fully removable jelly vac-u-lock attachments. Also comes with 3 fully removable jelly attachments. Fits waist 26-44 inches. Dong measures 8"x1.5"x4". Vaginal plug measures 4"x1.75"x4.75". Anal plug measurres 3"x1.5"x3.5"" —SexToySex.com
"EVERYTHING A GIRL EVER NEEDS TO SATISFY A MAN OR A WOMAN AND HERSELF — JULI.
Purple genuine leather harness 3-way fully adjustable or perfect fit. Non slip construction assures perfect movement with your body." —69 Adult Toys

Juli's jelly prober.
Vac-U-Lock vaginal plug.
Anal Attachment - Vac-U-Lock anal plug.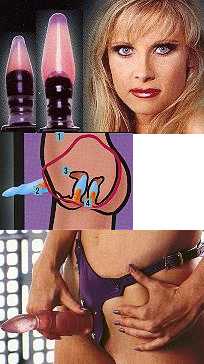 Vibrations: none
Size: dong: 8" x 1.5"; plug: 5" x 1-1/2" at widest point; vaginal plug: 4" x 1.75" at widest point; anal plug: 3" x 1.5" —SexToySex.com


Material: jelly and Material: leather "Jelly is a soft squishy smooth material." —Convergence Inc.
Batteries Required: none
Manufacturer: Doc Johnson product #DJ5400-06
See Crystal Jellie Pink Jellie Prober (from picture).
See listing of dildoes.
See also anal lubricants.

"The Julie Ashton Strap is the one I modified to hold my 9 x 2,and my 6 x 1.75 cyberskin cock. The suction cup ripped off the cock after the second use, so I had to put the cock through the hole and the balls held it in. I got a year's use out of this.
"But! I'm here to tell you there is no pleasure for the woman using the rigid base to hold the vac u lock cock on. Perhaps if a cyberskin nub that pushed back against the woman's clit, it would work for me. Direct contact during the stroking in and out is what feels really good to me! The pointy, flexible ended jelly cock hurt the guys although it is very flexible, and comes in handy as an easy ass opener. Maybe a shorter more rounded end would work and would look more like a butt plug? Sorry about seeming so techie, but hope the info is useful for those starting out. I lived and learned. I too can't seem to find a strap made for the bigger cocks. Obviously I need new stuff! So if any of you know of any better, let ME KNOW!" —anonymous; e-mail; March 16, 2003
"Me and my g/f have just purchased this strapon. This is the first time i've ever let her penatrate me, and i love it, and so does she. The harness not only pleasures me, in a way i thought never could be possible, but pleasures her to. The anal and vaginal plugs feel great for her. Well that's it for now, time for another round. Trust me, it's well worth the money…" —PJ quoted by SexToySex.com April 30, 2004
"We have lived together since college, this is the first strap on we have used that leaves us both satisfied wheather giving or receiving. My girl friend wants to use the Juli Ashton strap on everyday since we bought it. I like how it gently massages my g-spot. This is the one strap on we have tried that is much better than we ever expected." —anonymous quoted by SexToySex.com Feb 16, 2004
If you have used this toy, please share your impressions through the feedback form provided below or e-mail direct to contact00@AdultToyReviews.com.

Adult Toy Reviews.com is not a store…We're better!
We are an independent consumer review site.
We offer links to more than a dozen on-line web stores.
Your purchase from any site marked with an † will help keep our independent consumer review service available and on the web. Or you can contact us to make a donation. Thank you for your participation.
U.S. $67.00 SexToySex.com†
U.S. $79.95 69 Adult Toys†
(see important notes below)
†Affiliate: Listings marked with a † are affiliates. If you decide to purchase from this source, please use the link provided. The use of this link will result in a token affiliate payment that will help keep this site on the web. We can't vouch for any affiliate's honesty and remain neutral about whom you should buy from.
NOTE: We can not vouch for the honesty of any of the listed sources. References to commercial sources and their prices provided as a courtesy to the reader. We do not work for any of these organizations. When comparing prices, remember to add in shipping and handling charges, taxes, and other fees. Prices and availability of specific items subject to change (if you notice that a price has changed or an item is no longer available from a listed source, please e-mail us).
some of the sources on the web:

premium sites

specialty sites

discount sites

general sites

transvestite sites

Shopping through these links may result in a small percentage of your purchase helping keep this site on the web.
(Many of the sites have tricky rules, so we don't always get a percentage, but it can't hurt to try.).

[ home ] [ toy info ] [ sorted by color ] [ sorted by material ] [ rabbits ] [ butterflies ] [ remote control ] [ strap-on harnesses ] [ dildoes ] [ double dildoes ] [ glass dildoes ] [ hands and fists ] [ vibrators ] [ massagers ] [ sleeves ] [ eggs and bullets ] [ clitoral stimulators ] [ waterproof vibrators ] [ anal probes and butt plugs ] [ beads ] [ breast pumps and nipple exciters ] [ balls ] [ erotic jewelry ] [ cock rings ] [ bondage ] [ lubricants, oils, and creams ] [ barriers ] [ hygiene ] [ erotic clothing ] [ transvestite items ] [ kits ] [ artificial vaginas ] [ male masturbators ] [ dolls ] [ penis pumps ] [ novelties ] [ DVDs ] [ videos ] [ books ] [ words ]
privacy statement
Unlike most web sites, we inform our visitors about our privacy policy. AdultToyReviews.com does collect generic information from visitors for statistical analysis (nation, browser, operating system, screen resolution, and monitor size) — any web site you visit can and probably does collect this information (and more). All individual identification information is immediately discarded (except for subscription information if you join our mailing lists). Information is never sold to outside mailing lists or any other purposes.
feedback
Share your experiences with other women. Give real user feedback on which toys are good, which toys are bad, and why. Let's replace advertising hype with solid information derived from actual experience.
All questions are optional. Pick and choose the ones you want to answer. Or use ordinary e-mail, at contact00@AdultToyReviews.com.
This web page is about the Juli Ashton Strap-On.

Some text and pictures copyright © Convergence Inc. Used by permission.
Copyright © 2003, 2004, 2005 AdultToyReviews.com
Last Updated: June 26, 2005
[ home ] [ toy info ] [ sorted by color ] [ sorted by material ] [ rabbits ] [ butterflies ] [ remote control ] [ strap-on harnesses ] [ dildoes ] [ double dildoes ] [ glass dildoes ] [ hands and fists ] [ vibrators ] [ massagers ] [ sleeves ] [ eggs and bullets ] [ clitoral stimulators ] [ waterproof vibrators ] [ anal probes and butt plugs ] [ beads ] [ breast pumps and nipple exciters ] [ balls ] [ erotic jewelry ] [ cock rings ] [ bondage ] [ lubricants, oils, and creams ] [ barriers ] [ hygiene ] [ erotic clothing ] [ transvestite items ] [ kits ] [ artificial vaginas ] [ male masturbators ] [ dolls ] [ penis pumps ] [ novelties ] [ DVDs ] [ videos ] [ books ] [ words ]