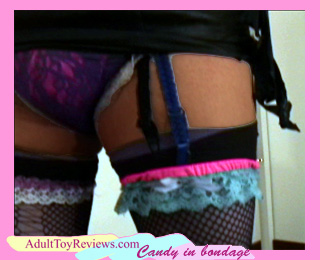 Panties
Panties and bras of all kinds are popular. Some sissies wear excessive numbers of panties. Some colors and designs of panties may be associated with particular fantasies.
A panty pet is a sissy whose fetish centers on wearing womenn's panties, usually with B&D overtones.
Padded panties give the shape of a woman's ass or woman's ass and hips. Some padded panties also pull in the stomach.
Women's panties come in four basic styles: g-strings, bikinis, hip-huggers, and briefs.
G-strings have a small patch of cloth in front, with thin strap or string going up the back and thin or string waist band. There is no place for a sissy to hide her penis in a g-string.
Bikini panties are the same cut as the bottom halves of bikini swimsuits. Genuine girls often wear bikini underwear when anticipating a sexual encounter, as they are sexy but also comfortable enough to wear for long periods of time. Bikini panties come in a wide variety of designs and colors, most with overt sexual overtones. Sissies can tuck the flacid penis down underneath or allow the penis to hang free over the top of the waistband.
Hip-hugger panties are a compromise between bikinis and briefs. The cut is similar to briefs, but with the waist band about half way between the normal brief and normal bikini waist band height. The sissy can tuck the flacid penis underneath or allow the penis head to poke out the top of the panties when erect.
Briefs are panties with a high waist band. This is the style most common for little girl panties. Genuine girls often wear briefs when they are most concerned about comfort rather than looks. Many of the lacy sissy panties are variations of briefs.

bubble panties
Bubble panties are panties with two layers. Bubble panties "bubble" out more than regular patnies and tend to swish and slide more than regular panties.
These are two size 9 panties on the same mannequin. Note how much puffier the panty on the right is, compared to the panty on the left. That's why we call them 'BUBBLE PANTIES'!!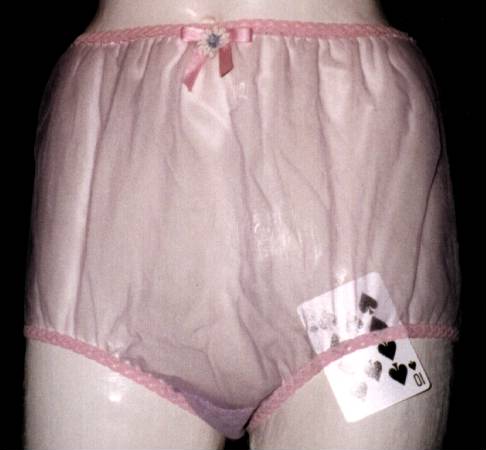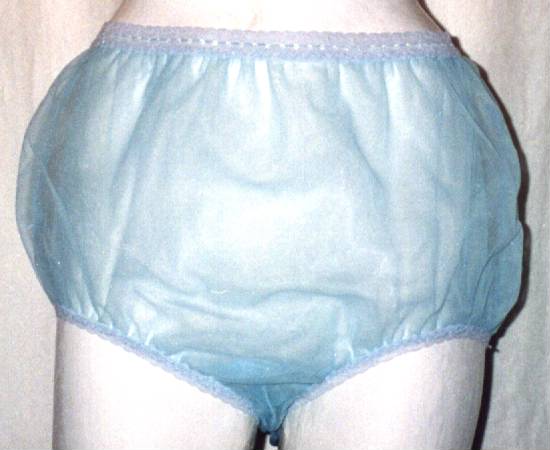 Fashioned after the classic high waist brief, these panties feature two layers of sheer nylon tricot. The inner layer is a reqular sized panty, but the outer layer is an oversized panty. This allows the outer panty to slide over the inner panty, no matter how tightly they fit. To further allow the fabric to move, Eslynn redesigned the patterns so there are no crotch seams and the side seams are independent of one another. The two panties attach only at the elastic, which is a soft stretch nylon for comfort. This is like no double layer panty you have ever worn!!
more information on bubble panties
pictures and text about bubble panties courtesy of Eslynn

Sissy Rules: "1. You must always wear panties. Sissies are not allowed to own men's underwear."—Karen from Sissy Rules
Sissy Rules: "3. When at work you must always wear panties and have your toenails painted, but you need not wear any other feminine items unless they won't show."—Karen from Sissy Rules
Sissy Rules: "14. When leaving the house (not to work), besides your panties, you must always wear at least one other feminine item."—Karen from Sissy Rules

bondage-themed panties
Bondage-themed panties.


first experiences
"When my mother and auntie first put me into panties at age 14 as punishment for neglecting to do my laundry, it was in the 60's when girls wore mostly full cut brief style panties. They insisted upon and taught me to, wear my panties "high" about my waist. Of course, one of my greatest fears upon wearing my panties to school was to have my shirt come out in back when I bent over to reveal my pastel panty elastic to any who could see. Girls and women will recognize panty elastic immediately and cause them to start giggling and quizzing—which can become quite a humiliating experience for any sissy—but a good experience nonetheless as she will then have to explain her panties to them. Another good item for sissies is lace trim on her panties, as these invariably will cause "panty lines" to be seen under slacks—which will bring more quizzing, giggling, and humiliation from the women. Old fashioned lace trimmed brief style panties, worn "high", should be almost mandatory wear for any pantywaist sissy."—Nancy; e-mail
"The first time I masturbated, I snuck a pair of my sister's bikini panties and one of my mother's brassières from the laundry basket. Their lingerie felt soft and feminine in my hands as I scurried back to my room. I tried to put them on my pillow, but that didn't work, so I tried them on myself. I put on the panties first. That was a taste of heaven. The soft feeling of the panties sliding up my bare legs inspired a raging erection. Adjusting the panties at my crotch rubbed the soft feminine cloth all over my butt.The waistbands and legbands of my sister's bikini panties were in completely different places than boy's underwear and it felt so feminine and skimpy."—Candy; e-mail
Share your first panties experience at contact00@RealSissySchool.com
panty experiences
"I like for my wife to catch me sniffing her panties from her hamper. She makes me carefully wash them by hand."—subhub; e-mail
"I am a busy surgeon and my life is much easier ever since I turned my wimpy husband into my real life housemaid. He was such a drag on my life as a guy. He spent my money, goofed off, and freeloaded, but demanded sex and expected me to keep the house! Well, no more! Now during the day she keeps my house spotless while wearing a frilly maid uniform, ruffled panties, baby doll socks, and high heels. Busy wives should think about making their husbands more obedient by making them wear sissy type clothes. It makes them much more docile and very easy to handle."—Mistress Joan; e-mail
Share your panties experience at contact00@RealSissySchool.com


picture of transvestite in panties handcuffed to bed posted to alt.sex.trans newsgroup by archiver@invalid.com

access panties
Another idea that is good for any sissy is to have her sew her own little lace trimmed access hole in the back of some of her panties. The hole can be heart shaped, elliptical, or round. Lace trim is a nice little touch. Besides being a good project for any sissy (sewing her own panties), the access hole can also become very practical whenever her man may desire a "quicky" by simply bending her over, raising her skirts and petticoats and slipping her the quick cock from behind—"taking her from behind" as it is known.
One other humiliating experience that is good for any sissy, concerning her "access" panties is when, for instance, she is changing her dress and petticoat in front of other women … when they notice the "curious little hole in back" and start quizzing the sissy what the little lace trimmed hole is for. Then to hear them figure it out for themselves and start giggling with glee and cooing and clucking with approval.
e-mail from Sissy Nancy; 18 January 2005

panty lessons
Panties are about as basic sissy as you can get.
If you've been thinking about becoming a sissy (or want to sissify your boyfriend or husband), then you have to start with panties.
You need to find out what size panties you wear. That means obtaining panties. Mail-order is possible, but has a slow turn-around time compared to in person shopping. And there is so much more opportunity for humiliation and shame in going shopping. A wife or mistress feminizing a new sissy can go along and make sure that the sales clerks know who the panties are for (or maybe even make your new sissy have to tell).
Guys tend to be bigger than girls, so chances are that a sissy will need at least a size large (7) pair of panties — probably a plus size if he isn't trim.
While a new sissy could buy one of each size all at once, it is better to stretch it out and make the new sissy purchase a size 4 or 5 (small) panties first, take them home, and try them on. Then make a separate shopping trip to purchase a pair of medium (size 6) panties, then 7, and so on until the new sissy finds the right panty size.
The new sissy should have to masturbate at least once while trying out each new size panties. Even better that the sissy have to masturbate three times in each new pair of panties, once into each of the three holes of a three hole doll. If the sissy is well-to-do financially (and it really helps to have money to do a complete full time sissification, including breast enhancements and other plastic surgery), then the Virtual Girl Doll is a nice reward for the first steps into sissidom. A really inexpensive choice would be the Taunting Tanya Doll or Kneeling Nina Doll. If an inexpensive doll, such as the Taunting Tanya, is used, then the new sissy only has to ejaculate into any holes that are too rough. With an expensive doll, such as the Virtual Girl Doll, the sissy must masturbate directly in each hole.
Once the sissy has learned the correct panty size, the new sissy must learn the four basic types of panties: g-string, bikini, hip-hugger, and brief. The sissy must purchase at least one panty of each type in the correct size. An emphasis should be placed on finding the sexiest and/or most feminine panties of each kind. The sissy may optionally purchase a second pair of brief panties in a comfortable style. This can be one shopping trip or more than one, but the sissy must masturbate at least three times in each new pair of panties, cumming in all three doll holes.
Having experienced all four types of panties, the new sissy must purchase white, black, pink, red, blue or purple, flower print, and animal print panties. These may be purchased in a single shopping trip. Each pair of panties must be worrn while masturbating at least with each doll hole. If the sissy is using inexpensive dolls, then the sissy will probably need replacement dolls as each doll pops or loses air (a well made foam doll like the Virtual Girl becomes less expensive over time). Ordering dolls on-line opens up a much wider variety of dolls than will be available at any particular adult book store (and adult book stores typically charge a lot more for the same dolls), but there is a humiliation factor in having to purchase a doll in person while wearing feminine panties.
At this point, the sissy no longer needs to wear male underwear. The new sissy has enough panties to stay in panties full time, even when out in public. The new sissy will have to worry about people noticing the feminine panty lines, especially with bikini panties. The new sissy will have to worry about people seeing the waist bands of the panties becoming visible above the tops of the backs of the trousers or jeans, especially when wearing briefs. The sissy will have to worry about the guy at the next stall noticing the panties when urinating in a public restroom. The new sissy can start to worry about the next doctor's visit. But the new sissy must wear panties any time out in public.

purchasing panties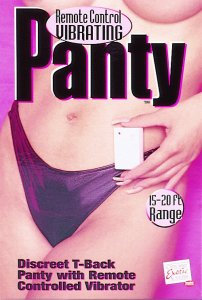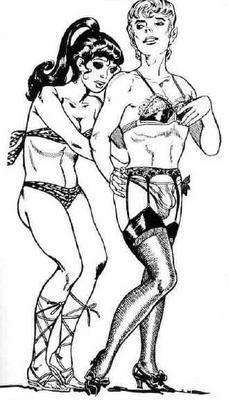 picture courtesy of femminilizzazioneforzata

Share panties suggestions at contact00@RealSissySchool.com

complete table of contents listing all dolls


some of the sources on the web:

transvestite sites

premium sites

specialty sites

discount sites

general sites

Shopping through these links may result in a small percentage of your purchase helping keep this site on the web.
(Some of the sites have tricky rules, so we don't always get a percentage, but it can't hurt to try.).
[ home ] [ toy info ] [ sorted by color ] [ sorted by material ] [ rabbits ] [ butterflies ] [ remote control ] [ strap-on harnesses ] [ dildoes ] [ double dildoes ] [ glass dildoes ] [ hands and fists ] [ vibrators ] [ massagers ] [ sleeves ] [ eggs and bullets ] [ clitoral stimulators ] [ waterproof vibrators ] [ anal probes and butt plugs ] [ beads ] [ breast pumps and nipple exciters ] [ balls ] [ erotic jewelry ] [ cock rings ] [ bondage ] [ lubricants, oils, and creams ] [ barriers ] [ hygiene ] [ erotic clothing ] [ transvestite items ] [ kits ] [ artificial vaginas ] [ male masturbators ] [ dolls ] [ penis pumps ] [ novelties ] [ DVDs ] [ videos ] [ books ] [ words ]

other

Notes regarding Shemade Shemale pictures: Access strictly forbidden to minors — © Carpe Diem — All rights reserved — All images presented on this are conform to French legislation : no images of anyone under the age of 18 are present on this access. Proof of age and majority as well as the running rights for the videos and photos are available at Carpe Diem's head office.
Copyright © 1999, 2000, 2001, 2002, 2003, 2004, 2005, 2006 RealSissySchool.com
Last Updated: February 1, 2006
Created: February 1, 2005
Based on material previously at AdultToyReviews.com
Author of this sissy lesson page: contact00@RealSissySchool.com
If you write, please label your message as "Sissy" to help separate it from SPAM (which gets tossed unread).

[ home ] [ toy info ] [ sorted by color ] [ sorted by material ] [ rabbits ] [ butterflies ] [ remote control ] [ strap-on harnesses ] [ dildoes ] [ double dildoes ] [ glass dildoes ] [ hands and fists ] [ vibrators ] [ massagers ] [ sleeves ] [ eggs and bullets ] [ clitoral stimulators ] [ waterproof vibrators ] [ anal probes and butt plugs ] [ beads ] [ breast pumps and nipple exciters ] [ balls ] [ erotic jewelry ] [ cock rings ] [ bondage ] [ lubricants, oils, and creams ] [ barriers ] [ hygiene ] [ erotic clothing ] [ transvestite items ] [ kits ] [ artificial vaginas ] [ male masturbators ] [ dolls ] [ penis pumps ] [ novelties ] [ DVDs ] [ videos ] [ books ] [ words ]