Nighties
Nighties are bed clothing often worn by women. There are many different kinds. The two most common are baby doll nighties and night gowns.
Night gowns are full length gowns designed to be worn to bed. They are typically more sheer and sexy than evening gowns, and have a greater variety of designs.
Baby doll nighties extend to the waist or hips and often have lots of open cleavage.

teddies

baby dolls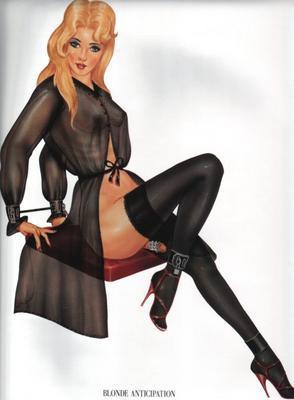 picture courtesy of femminilizzazioneforzata

Sissy Rules: "12. For bedtime, a nightgown or some other type of feminine nightie must be worn."—Karen from Sissy Rules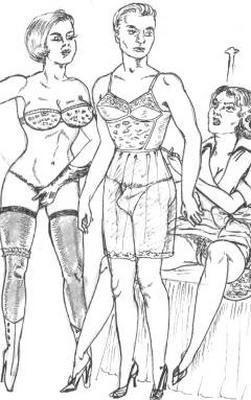 picture courtesy of femminilizzazioneforzata

first experiences
"My first nightie experience was after my first divorce. I bought a nice silk nightie and a robe to go with it. Once in bed I felt comfortable. Now that I am transgendering, I wear female clothing 24/7."—Mellanie; e-mail
Share your first nightie experience at contact00@RealSissySchool.com
Share nightie suggestions at contact00@RealSissySchool.com

Bee my Valentine
A little valentine's day card I drew for Mika… well I drew it mostly to make Bee go ballistic. You know, I get so many e-mails from women telling me how cute Bee looks in female clothing that I'm surprised he doesn't take up crossdressing just to get the girls. Who knew? Who knew?
picture and text courtesy of Ghastly of Ghastly's Ghastly Comics

complete table of contents listing all dolls


some of the sources on the web:

transvestite sites

premium sites

specialty sites

discount sites

general sites

Shopping through these links may result in a small percentage of your purchase helping keep this site on the web.
(Some of the sites have tricky rules, so we don't always get a percentage, but it can't hurt to try.).
[ home ] [ toy info ] [ sorted by color ] [ sorted by material ] [ rabbits ] [ butterflies ] [ remote control ] [ strap-on harnesses ] [ dildoes ] [ double dildoes ] [ glass dildoes ] [ hands and fists ] [ vibrators ] [ massagers ] [ sleeves ] [ eggs and bullets ] [ clitoral stimulators ] [ waterproof vibrators ] [ anal probes and butt plugs ] [ beads ] [ breast pumps and nipple exciters ] [ balls ] [ erotic jewelry ] [ cock rings ] [ bondage ] [ lubricants, oils, and creams ] [ barriers ] [ hygiene ] [ erotic clothing ] [ transvestite items ] [ kits ] [ artificial vaginas ] [ male masturbators ] [ dolls ] [ penis pumps ] [ novelties ] [ DVDs ] [ videos ] [ books ] [ words ]

other

Notes regarding Shemade Shemale pictures: Access strictly forbidden to minors — © Carpe Diem — All rights reserved — All images presented on this are conform to French legislation : no images of anyone under the age of 18 are present on this access. Proof of age and majority as well as the running rights for the videos and photos are available at Carpe Diem's head office.
Copyright © 2004, 2005, 2006 RealSissySchool.com
Last Updated: February 28, 2006
Created: May 1, 2004
Based on material previously at AdultToyReviews.com
Author of this sissy lesson page: contact00@RealSissySchool.com
If you write, please label your message as "Sissy" to help separate it from SPAM (which gets tossed unread).

[ home ] [ toy info ] [ sorted by color ] [ sorted by material ] [ rabbits ] [ butterflies ] [ remote control ] [ strap-on harnesses ] [ dildoes ] [ double dildoes ] [ glass dildoes ] [ hands and fists ] [ vibrators ] [ massagers ] [ sleeves ] [ eggs and bullets ] [ clitoral stimulators ] [ waterproof vibrators ] [ anal probes and butt plugs ] [ beads ] [ breast pumps and nipple exciters ] [ balls ] [ erotic jewelry ] [ cock rings ] [ bondage ] [ lubricants, oils, and creams ] [ barriers ] [ hygiene ] [ erotic clothing ] [ transvestite items ] [ kits ] [ artificial vaginas ] [ male masturbators ] [ dolls ] [ penis pumps ] [ novelties ] [ DVDs ] [ videos ] [ books ] [ words ]